Strings Concert and Sunset on the Heath
Posted on 2022/02/12 10:08:17 (February 2022).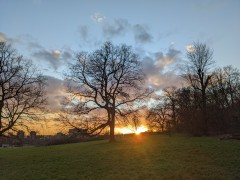 [Thursday 10th February 2022]
Went along to see Erika perform in a strings concert at her school in the morning. Then towards the end of the day went to the heath for a nice sunset.


Took a bit of video footage with my GoPro this evening as well:




Comment 1
Well done, that announcer and performer!

Posted by John's Mum at 2022/02/14 08:04:05.