Blossom
Posted on 2022/02/26 08:03:15 (February 2022).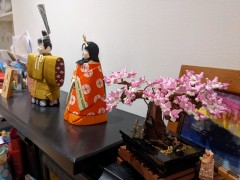 [Wednesday 23rd February 2022]
Surveyed the wild cherry blossom on the heath, then later on we decided it was time to change the Lego bonsai tree into its cherry blossom configuration.


Comment 1
Wild cherry blossom (Gean) it certainly is . This is one of the more popular trees that I give away .....

Posted by Dad at 2022/02/27 17:00:33.
Comment 2
Sugoi,lego no bonsai de sakura ga aruno!?
Ohinasama ha momo no hana dakedo... korede pittari ne!

Posted by Yoko at 2022/03/01 12:52:20.