Friday
Posted on 2022/02/26 08:03:16 (February 2022).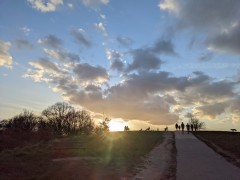 [Friday 25th February 2022]
Just a quick walk to Hampstead Heath at the end of the working week to catch a bit of the sunset.

Here's a timelapse I took with my GoPro while I was there.



Comment 1
Enjoyed those, John. The sky-line shows what a rich city London is. The people up on the Heath peacefully absorbing the atmosphere.

The GoPro footage was cool too.

Posted by Nigel at 2022/02/27 09:03:16.