Spanner
Posted on 2022/04/10 12:49:01 (April 2022).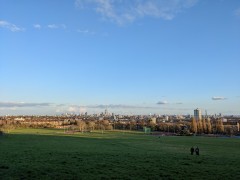 [Thursday 31st March 2022]
Unfortunately our plans for the upcoming Easter holidays went awry today - Erika tested positive for the lurgy, and with the girls due to fly out on Monday that looked unlikely to happen. Erika was consequently off school, so we had fish and chips for lunch to try and cheer ourselves up, then later on I went to the heath for a bit.


Comment 1
Bird?
Looks like a Goldcrest ... was it very very small?

Posted by Dad at 2022/04/11 17:29:13.
Comment 2
Hope by now the lurgy has passed without too much discomfort.

Very best wishes to all.

Posted by Nigel at 2022/04/12 08:10:03.
Comment 3
Thanks for asking Nigel - yes Erika barely noticed she had it, and is now all clear... but of course it rather gets in the way of getting on planes etc!

Posted by John at 2022/04/12 13:51:34.
Comment 4
Dad - I actually think it was a green woodpecker, I've seem them before on the heath, although it's a bit hard to tell from the video.

Posted by John at 2022/04/12 22:46:59.