Bridge Inn and Holcombe
Posted on 2022/05/07 10:24:58 (May 2022).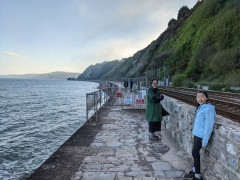 [Friday 15th April 2022]
Started the day with breakfast at our hotel in Congresbury, which I rather enjoyed - I don't think I've had a hotel breakfast since our short trip to Cambridge in August 2020, and that one had felt more like being in a hospital canteen given the mores of that particular period of history. The food may not have been outstanding this morning, but the service was bright and cheery, and there were wedding guests filing in with various levels of hangover which was somehow rather nice to see.

After checking out, we motored down the M5 in the direction of Devon, and stopped off en route in Taunton, thinking we might be able to get a replacement windscreen wiper blade at a big Halfords there (how exciting) but as it turned out they didn't stock it. While we were there we visited some of the other giant shops in that out of town retail park - a Hobby Craft and a Sainsbury's. Compared to London, where everything is so space conscious, it felt like another world.

We spent a bit of time dithering over what to do for lunch, but ultimately decided to stick to what we know, and proceeded purposefully further down the M5, in the direction of the wonderful Bridge Inn at Topsham. Therein (or should I say thereout given we sat in the garden) we availed ourselves of pasties and cheese sandwiches and of course some beer for me.

The next stop on what seemed to have become an eating tour of the West Country was at Dad's in Starcross where we had arranged to call in for afternoon tea. Dad had decided to make saffron buns, as a sort of locally appropriate alternative to hot cross buns (it being Good Friday), and these were very good with clotted cream and jam.

Back in the car once again, for the short drive to Holcombe, the other side of Dawlish, where I'd rented a cottage for us for the weekend. I'd never really seen Holcombe before, the main road between Dawlish and Teignmouth avoids the old centre of the village - a blessing of course - and I was rather taken with the sleepy little lane going up the hill, lined with thatched cottages. Our cottage wasn't thatched, but that was fine, and it was tiny but suited our simple needs well.

After a bit of time settling in at the cottage, we took a walk down Smuggler's Lane to the sea, and then our thoughts turned to dinner (albeit none of us were particularly hungry having seemingly been eating all day). I had rather naively assumed we might be able to just stroll into the pub in Holcombe and find victuals proffered there, but the rather fraught looking landlord told us the kitchen was completely overwhelmed. So we got back in the car, headed to the deserted Sainsbury's in Dawlish, and bought food for dinner there. Which actually worked out really well - it was a late supper, but we had a big selection of different things we felt like - Chie and Erika had some mussels, I got some fresh pasta, and we all had a selection of tapasy nibbles.



Post a comment