London Zoo
Posted on 2022/07/31 12:06:03 (July 2022).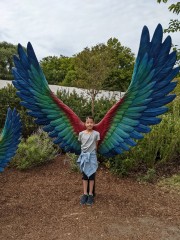 [Saturday 30th July 2022]
As Chie and Erika would imminently be leaving for Japan for the summer, Erika and I decided to do something fun together today so we went to the zoo. I don't think we'd been together since December 2018, but there was a time when we'd go on a pretty much weekly basis.

Some video footage from our visit to the zoo today:






Comment 1
Brilliant first photo, with Erika viewing her Dad with that lovingly resigned kind of "sigh" they all do with their parents!

Posted by Nigel at 2022/08/05 15:14:37.