Okonomiyaki and Sake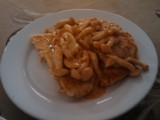 Thursday 21st May 2009

Chie made okonomiyaki for dinner tonight, which were particularly good on this occasion, and all the better for being accompanied by some very nice sake.

London May 2009
19:30:21 The sake we had with dinner tonight, which Chie had bought back from Japan, a present from her Grandparents. This was very nice indeed!
19:30:36 A close up on the label.
19:33:39 Chie's version of the Kiso mix they do at Abeno Too. It's bunapi - shimeji mushrooms, with cheese and garlic on an okonomiyaki base.

19:47:08 ...bit hard to get a picture in this lighting - this was a "plain" okonomiyaki with Japanese mayo and "sauce".
19:56:11 Another kiso mix type...