Curly and Snitch
Posted on 2006/03/26 10:55:00 (March 2006).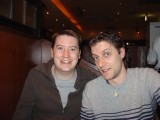 [19th March 2006]

These were some of the nicknames that me and John had during our university days.
We set off pretty early, meeting in Shinjuku as it was our only "day out" before he left for England on Tuesday.


When you are with a special person I have found that you meet after a long time and you behave as if you just met him/her the day before, as if no distance or long time without seeing each other has ever occurred.
John is such a person to me, certainly one of my closest friends, though we don't see each other a lot.

We spoke about everything, about Japan, about love and hate, work, the people in Radstock, parents and life.




Our chit-chatting got us to a nice tea room, where we felt rather gay, apparently this is the place where girls go to have a "girlie chat" (John here is posing for his numerous boyfriends out there).
After that we were kind of indecisive, as we really wanted to go to Takao san (a mountain near Tokyo), but the weather was kind of crap so we decided to opt for a city walk.

Shinjukugyoen, a park that I didn't even know it existed, was our first choice, John knows it very well, it sorts of reminded me of Kew Gardens (it has a nice greenhouse full of strange plants).

I have to say that I was quite impressed, almost at the same level of my love "Meji Jingu".
We then moved to Shinjuku again, where I could introduce John to my favourite restaurant for spaghetti in Japan, "Al Dente". I have to mention the fact that I would hardly eat spaghetti in Italy, 'cause I don't quite like them, but I do eat the here in Japan...

It was then afternoonish and we were heading for Ikebukuro.



Finally after reading so many reviews I had a chance to see and experiment the Quercus Bar. Just one word spings to mind: SMASHING!
It was extremely nice to drink marvellous whiskeys, being walked through the different tastes and whiskey related geographies by John. I must say that I am rather impressed by his knowledge. Also Watanabe san it's a great guy, the bar is not huge but very cozy and definitely a nice place to hang out.

We then decided to go to the other target of the evening, Rohlan.

This time our choice was far better than the Kushiage of Saturday, the food was really great, and I still can't believe that John had a "Fake Pork Cutlet (tokatsu)" that tasted exactly like the real thing (I am actually sure that it's really pork, or some sort of animal ground to bits)!!

We then decided that Quercus was to be the place to help more chatting with some drinks, and we headed over there till 11ish, after that we went back home.
I regret not having gone to the Karaoke, but we'll certainly do it next time.

I couldn't hope for a better weekend with John, I am sure that there will be others to follow in the future!

Comment 1
About the Quercus bar: now I'm fucking jalous! I have no particular affinity for Whiskies. But I'm sure John would easily convert me. Remember any brand worth buying?

Posted by Sheri at 2006/03/26 16:18:34.
Comment 2
There were quite a lot (as you would expect from a whiskey bar), but I can't really remember the names, better ask John!

Posted by Lox at 2006/03/27 01:02:00.
Comment 3
Only just read this Lox,
what a lovely account
of a lovely day! It
really was great to see
you mate!

I think one of Lox's
particular favourites
at the whisky bar was
a Chichibu, a somewhat
lesser known Japanese
malt, which is probably
near impossible to find
outside of Japan.

We also had some more
regular malts though,
like Laphroaig, Caol Ila,
Highland Park, Clynelish,
etc.

Posted by John at 2006/04/05 01:14:00.
Comment 4
CHICHIBU!!! Yes that was the one! Marvellous very dark and rich colour, great flavour... also quite expensive apparently, but certainly a top malt!

Posted by Lox at 2006/04/05 14:51:11.
Comment 5
Extremely helfupl article, please write more.

Posted by Ivalene at 2011/06/22 19:52:29.
Post a comment