Istanbul, Constantinopolis, the Bosporus and Religion
Posted on 2006/04/30 10:05:53 (April 2006).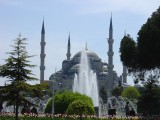 [27th April 2006]

The day didn't started all that well.
First of all it seemed that Ayla could not come on time because she had a problem with the car and had to get it replaced, then I had the usual work related troubles with the most important client that I have in Japan.

We didn't have appointments in the daytime so I was toying the idea of asking Ayla to take me to see some parts of Istanbul, especially the Muslim part, which is full of important things to see.
This plan seemed to fail miserably, but after lunch she told me that the appointment was postponed until 6ish, so I had a couple of hours to go there.

The agency driver (a very nice man) got me on the car and took me to all those places that I wanted to see, we didn't have time to actually get INSIDE anything, but the view was so breathtaking that I will let the pictures speak for me.

Definitely have to come back here, it's too beautiful.

The thing that strikes me most is really the mix of cultures and life styles that you have here. Only a city like Istanbul could create something like that. A city that has been important for centuries, the door to Asia for Europe and the door to Europe for Asia.
This city is so NOT how I imagined, I thought I was getting to something Indian looking, or North African looking, but instead I get a mix ranging from the Suk in Fez to 5h Avenue in New York.

Food also is great, extremely fresh and with lots of colours and flavours.

Nice stuff!



Comment 1
Absolutely splendid photos, Lox! Great trip you must have had! What a mixture of cultures - not to mention the ancient Egyptian and Roman! And your hosts look very friendly - always a concern in such a mixed-up (ok, should I say cosmopolitan?) society.

Posted by Nigel at 2006/04/30 10:39:39.
Comment 2
Istambul, Constantinople, Byzantium. Capital of the Roman Eastern Empire, capital of the Ottoman Sultanate...
The bas-relief carved on the socle of the obelisk depict the Roman emperor Theodosius who separated the Empire in two, handing the eastern part to his son Arcadius and the western part to his other son Honorius.

Posted by Sheri at 2006/04/30 13:23:12.
Comment 3
Sheri: I thought it was somethoing related to it, thre was a latin inscription that was kind of talking about it though it was too an hard latin for me to give a proper translation... :P

Nigel: Correct. The agent was very nice, Still I wanted to venture around the city by myself and I didn't have the chance this time...

Posted by Lox at 2006/05/01 10:07:14.
Comment 4
I realise I forgot to compliment you on such a nice article and set of pictures - I read this on the train with my mobile, and it was (again) great to indulge in this kind of virtual-tourism-by-proxy whilst on an otherwise fairly bland journey through some ugly and uninteresting parts of Tokyo...

Posted by John at 2006/05/07 05:07:08.