A different Weekend
Posted on 2006/07/17 11:45:55 (July 2006).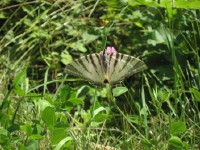 [15th-16th July 2006]

Partly because I have had plenty of rest of Friday and Thursday (as the company is forcing me to take holidays) we decided to to something different on Saturday and Sunday.

On Saturday me and Marta set off quite late to go to Milan. Main target was a spot of shopping in the center of the city, and a nice dinner with a friend of Marta (Tanya) and her boyfriend.
The shopping was quite shite, I did go without a real item that I wanted to buy, so eventually the shopping translated to a senseless zombielike crawling from a designer shop to another.

Marta seems always quite keen in trying a LOT of clothes that she is never going to buy, I can't stand it, as I would only try something that I am inclined to take already. I did buy a cotton jumper, mustard colour, something that I had been looking for a long time, so I guess that in the end the trip was positive for me.

The scary side is that I am getting more and more fed up with those shops where I used to go and buy a lot of clothes. Now I really feel "excited" about buying some clothes only if I go to some decent designer store, but of course I cannot afford the motherfucker, so I end up just bitter about it all.

Oh well, maybe another time.

The dinner was quite great actually, Tanya and Massimo made a great salad with Mango, Avocado and Shrimps plus a nice seafood pasta. A good white Vermentino was selected for the occasion and though I have little love for white wines I still recognize their greatness with fish.

We got back home quite late, around two-ish, ready to go to bed as we had to wake up quite early the morning after.

On Sunday the plan was to go and see Giovanna and Marco in Brunate.
Brunate is a great place up one of the hills that surround lake Como, marvellous view and great temperature in this season. The plan was to go to eat some specialties in this refuge on one of the paths that we had planned to walk, but the weather seemed a bit rotten so we stopped at Gio and Marco's place.

Eventually the weather got back in shape (full sun), and we went for the walk, just what I needed, to get away from the city and get a breath of fresh air. I really enjoyed the day out (which was closed with an home made pie bought at the refuge where we were meant to have lunch).

Back home we ordered some pizza and watched a DVD at Paola's place and went to bed quite late.

All in all a very good weekend, away from my preoccupations about the new job and all things related...



Comment 1
Great pictures, Lox! good to see pictures of Milan we wouldn't normally see (our television would concentrate just on the main fashion shops!)

And as for the trip into the lakes - Wow! Splendid! A beautiful part of the world!

I feel better just from looking at your pictures!! :)

Posted by Nigel at 2006/07/17 13:38:26.
Comment 2
It seems that we shared a similar weekend... we went to Falterona to see where our beloved river Arno springs out of the rocks... nice trekking, it will be probably one of your next destinations.

Err, as for that violet flower in your photo... I understand that you cannot see the difference between a rose and, let's say, a cherry tree... but A LILY? You claim to be florentine, so please, say it's a Baobab, an elephant, a Lothlorien flower, everything but NOT a lily!

Posted by Lank at 2006/07/17 15:42:24.
Comment 3
I'll go for the Lothlorien flower! :)

Posted by Lox at 2006/07/17 16:16:01.
Post a comment