She is Here!
Posted on 2006/10/12 18:00:53 (October 2006).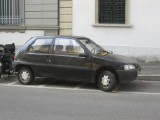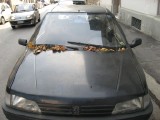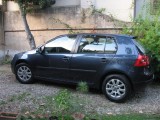 Ok that's it, my old Peugeot has gone away, sent to the scrapyard after beign registered by its first owner in 1992 (I was the third one apparently).

The new lady is a Golf, barebone setup as this car is terribly expensive, but I see it as a sort of investment for the future (investment is not the right word to be honest...), as I hope that its value will not crumble to the ground in the years.

Now I have to get used to drive a Disel car, bigger than what I had before and more than everything more "powerful"... Oh well, we will see, for the moment I can say that I loved the ride from the car dealer to my house, it's a completely new feeling!



Comment 1


Nice cars VW Golfs, I like the colour too, is that a dark metallic paint, can't quite see from the piccys?

Diesels are cool. I have a 306 which I use to get to Norwich every day ~40 miles round trip. I get about 600 miles out of a full tank ( since I don't boot it deliberately ) Very economical for a 10 year old car :)


Posted by Kev at 2006/10/12 20:05:45.

Comment 2


Very nice! A "quality" car Lox! It is sure to last and keep more value than a lot of other cars!


Posted by Nigel at 2006/10/12 20:51:30.

Comment 3


Thanks guys.. the colour is a Pearly Dark Blue/Grey, as for the disel I hope thatit will be economical, my old car was quite expensive under that point of view.. As for the value much depends when I am going to resell it, gut I hope that it will keep it a bit more than other brands, that was a major point in the choice...


Posted by Lox at 2006/10/12 23:46:26.

Comment 4


Yes the new car does look very smart Lox... However I can't help but feel a twinge of sadness looking at the pictures of the old car, now abdandoned and unloved.

Are those tears I see coming from the headlights?


Posted by John at 2006/10/13 09:31:56.

Comment 5


John: I can say that I loved the old car right to the last moment. It has been a great ride for a long time, but sadly she had to go... I can tell you that it wsn't easy to let her go at first, but that's life! (yes that was a tear as a matter of fact)!


Posted by Lox at 2006/10/13 09:40:15.

Comment 6


Cooooooooool Lox ! I see we share the same taste for VW Golfs ! And I like the colour too ! Can I borrow it from time to time ?


Posted by Sheri at 2006/10/13 16:21:39.

Comment 7


Sheri: Sure! When are you coming to see me then? I am waiting! (not a joke, in my new house I should have a spare double bed and I hope that Brinsley is not THAT big to fit the three of you!)


Posted by Lox at 2006/10/13 23:29:10.

Comment 8


Lox: How about December or January ? During school holidays ? Two, three or perhaps four days. Best without Brinsley (our nerves need a break).


Posted by Sheri at 2006/10/14 09:30:31.

Comment 9


I am away until the 16th of December, January is fine by me, no problem at all, plus I will have settled by then so the house (albeit a mess) will be useable! :) Let me know, if you can accomodate a short trip, I'll be glad to have you over!


Posted by Lox at 2006/10/14 09:56:57.

Comment 10


It would probably be during the first week of January.
Have you got a car park ?


Posted by Sheri at 2006/10/14 10:04:13.

Comment 11


Just wondering if it's best coming by car or by train. I used to come by train: Lyon-Torino, then Torino-Firenze. 8 hours ! I guess it might be faster by car.


Posted by Sheri at 2006/10/14 10:08:03.

Comment 12


And much more pleasant.


Posted by Sheri at 2006/10/14 10:09:04.

Comment 13


Actually, I just called Christelle (guess where she is : at her parents). Her classes start again on 8th January. So as I said, if it could be during the first week, it would be great.

I said I would prefer Brinsley not to come with us, but his grandparents (as always when needed) will be away too. He'll probably come with us.


Posted by Sheri at 2006/10/14 10:25:48.

Comment 14


Sheri: Mail is better, drop me a message with a probable schedule, I have to wait to be in the new house before committing 100% but I think that it's doable nonetheless. If worst comes to the worst you can always go at my mum's place she's got plenty of beds!


Posted by Lox at 2006/10/14 17:16:21.