The First Night
Posted on 2006/11/23 20:42:02 (November 2006).
[23rd November 2006]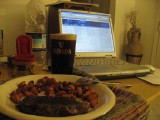 Yes, tonight for the very first day I have had dinner at home. To be honest there was another occasion where I ate a frozen pizza here, but today I really set up my stuff to cook and decided to go for a great grilled fillet steak with butter-garlic carrots and most importantly a PINT of Giunness!

What a dinner! Really what I needed after all the troubled days that I have just had.

I posted also all the pictures taken at Lucca, at the Comics festival. I wanted to write about that day but it happily coincided with the blog engine crashing so in the end I am going to post the pictures only.

Well that's it really.



Comment 1
Ahhhh.... I'm so jealous!!!! That looks a wonderful... Pint!!!!!

Seriously though, I liked the photos of Lucca Comic Festival - never seen anything like that before. Fascinating costumes!! ;)

Posted by Nigel at 2006/11/23 22:15:48.