Parties and Holidays
Posted on 2008/01/02 20:36:36 (January 2008).
[24th - 31st December 2007]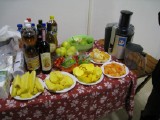 Christmas is always full of parties and festivities that need to be honoured. This year I have decided to put them all together in one upload.

Christmas dinner at Chiara's place was quite new for me, as I usually do not have any special occasion for Christmas eve. I guess it had to do with the fact that Chiara was coming with us for the traditional Christmas lunch the day after.

Both occasions were nice and easy, better than last year when I had a massive argument with my mum. Oh well...

New Year's eve was great as usual, we met in the same place where we spent some time last year, at Antonio's place, an high school in Prato (near Florence). The evening was great, food was marvellous (I made quite a lot of it, I love cooking after all), and we also lent the new juicer, that me and Chiara bought recently, to the party. The juicer was a star of the evening, I think that we must have quaffed more than 5 kilograms of assorted fruits!

We had several starters, rocket and nuts sauce over potatoes tortelli, black cabbage ans sausage pasta, a tuna steak cooked slightly with a special teriyaki sauce of my invention.
Then three chocolate mousses (1 pear and rhum, 1 4 types of different nuts and the last one a great SEVEN spices choco mousse), and struffoli, a typical cake from Naples (Antonio's mother comes from Naples).

We then played some card games, and generally had a great laugh, a very good way to start the year!



Comment 1
Ah!! Marvellous, Lox!! :) Great pictures of many great times!!

I have to ask: What happened to the beard? In the first set I must say, you looked rather "dangerous" !! Not sure if I was thinking of Kenneth Brannagh or Oliver Reed!!! :D :D

Although we didn't have so many social get-togethers, I feel I shall have to dig out a photo or two and put them in my blog section!! :)

Posted by Nigel at 2008/01/02 21:12:54.
Comment 2
Nigel: I actually ended up shaving the beard, the longest I have ever had so far... The fact is that I do not have any electric razor so keeping it all together neat and clean is quite hard, so in the end I went for total destruction... But I like the Oliver Reed idea! :D

Posted by Lox at 2008/01/02 21:43:42.
Comment 3
The New Year's Party looks great. Next year we should be there at all costs. Happy 2008! Fabio e Luana.

Posted by Fabio at 2008/01/03 22:45:44.
Comment 4
Grande Fabio!! We missed you guys! Well well next year we'll make sure that you are there too! :D

Posted by Lox at 2008/01/03 23:34:21.