Doctor Chiara!
Posted on 2008/01/21 20:14:50 (January 2008).
[21st January 2008]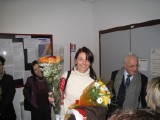 Today I will not ramble about my old self, as I usually tend to do, but instead the blog post is dedicated to Chiara.

As a matter of fact she got her degree today, making her a Doctor (in Italy every degree comes with a "Doctor" status) in Economics of Tourism and Resorts.

The degree did last a "little" longer than usually should be, but since Chiara has been working as well as studying (and she didn't really like to study all that much), let's say that it's ok to have finished so late.

The thesis discussion was quite brief and "easy", no sweat broken, in ten minutes squared we were already out of the classroom with the mark given (an hefty 95 out of 110, quite good). The Italian University system still amuses me, there is much hype for the thesis bit, but the exam and discussion is quite simple in the end. On the other side the career of a student here is quite long, there are many hurdles that need to be crossed, so to come at the end means that the student showed perseverance and of course some degree of "hard" work.

Going back to the thesis, in the end we had a little aperitif with all the guests invited, and after three hours we were finally going back home for a quick dinner...

Congratulations Doctor Chiara, this post is for you, I hope that you will have many more happy days like this one!



Comment 1
Congratulations Chiara!!!!

P.S. Finally a happy post in this sad and boring blog that's always talking about your problems :-P

Posted by Federico at 2008/01/22 10:04:39.
Comment 2
Congratulations Chiara!! Well done!! :)

Posted by Nigel at 2008/01/22 11:35:46.
Comment 3
oh mi love (with cockney accent :-)!) thank you for being so nice with me. about pictures: noooo we look so nice, isn't it???
Thank you Fede, thank you Nigel, clap clap clap is still in my ears


Posted by Chiarinette at 2008/01/22 22:31:39.
Comment 4
Ma dai ! Sempre cosi carina...!

Posted by Sheri at 2008/01/24 11:56:41.
Comment 5
Congratulations Chiara.

Posted by Mad Mumsie at 2008/01/25 08:24:41.
Comment 6
Thank you Mad Mumsie, thank you Sheri. thank you all :-))

Posted by Chiara at 2008/01/27 13:47:10.
Comment 7
Ah non, Chiara! Tu dois me parler en franēais! J'insiste!

(et euh... sachant que Lox est en Asie, tu dois sūrement te sentir bien seule...! Tu es libre mardi soir ?)

Posted by Sheri at 2008/01/27 16:09:14.