Gandmother's Birthday
Posted on 2008/03/25 10:02:19 (March 2008).
[Sunday 16th March 2008]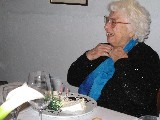 My Florentine side of the family is not that big, there are only two sisters, and of course my grandmother (granddad passed away few years ago). Today it was a very special occasion as my grandmother turned Eighty-five and it was a good chance to celebrate all together. We used to have family meetings a lot when I was a kid, I quite hated them because they were boring, and usually meant that we had to go to the countryside villa that my granddad owned to have huge meals and endless chats (not to talk about arguments but that's another story).

This system was abandoned when me and my sister grew up enough to say that we had better engagements, and from then all family parties are held either in a restaurant (like in this occasion) or at my Grandmother's house.

The birthday lunch was rather nice, we were all there, chatting about different things, in a very relaxed atmosphere, great food. The restaurant of choice is in the countryside so the type of cuisine was rather "traditional Tuscan" meaning lots of red meat and red wine together with veggies.
A very good party, eighty-five is not an easy age, I wonder if I'll ever live long enough to see it!

Happy Birthday Granny!!



Comment 1
No doubt, your cousin Matteo is much more handsome than you.
As for your grandmother, she seems to be a sparkling bit of a lady.

Posted by Sheri at 2008/03/26 19:28:35.
Comment 2
Sheri: YEEEAAAAHHHHH as if! :D

Posted by Lox at 2008/03/26 22:50:00.