Holidays in France
Posted on 2008/08/30 18:15:38 (August 2008).
[Saturday 9th August 2008 - Saturday 23rd August 2008]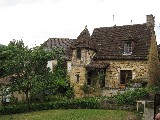 Here we are with the promised account of the holidays spent in France this summer.

I will try to be as brief as possible because I'd like you readers to concentrate more on the pictures rather than on my report.

The holiday company was composed by four individuals, namely, me, Chiara, Silvio and Gianfranco. We drove more than 4000 kilometres at the end of the tour, and we have been jumping through a lot of places in order to make the most of the time that we were given, but certainly increasing tiredness and stress from the trip.

In brief:

1st stop - Carcassonne - Lovely fortified city that I was meant to visit many years before during another holiday but didn't quite get to it...

2nd stop - Saint Emilion - Here we actually stopped for three nights. The city itself is quite great, with a very beautiful underground church, unique! Then we spent some time in the Sauternes region to sample the wines and visit some Chateaux, we went to see the biggest sand dune in Europe at Arcachon and the centre of Bordeaux.

3rd stop - Rocamadour, Sarlat and Cahors - On the way we stopped at Bergerac and at a Fois Gras farm (this visit was quite great). The names belong to three cities that are worth a visit in a lifetime. Especially the first one, Rocamadour, is quite stunning and very beautiful.

4th stop - Peche Merle, Millau - The first place is a cave where prehistoric drawings have been found. Very nice place, even if the drawings weren't there the cave is worth a visit, it's truly beautiful. Millau was a stop to see the longest viaduct in Europe (2km long, 400mts tall) and to visit the caves of the famous Roquefort cheese.

5th stop - Provence - Here we spent three days visiting Arles (where we had our hotel, a beautiful country house), Avignon, Baux en Provence, Pont du Garde and one full day spent cycling in Camargue (where we managed to see the pink flamingoes). I wish we had more time because Provence is quite beautiful, but it was a very nice stop.

6th stop - Cote d'Azur - This was the last stop, four days, where we mostly rested by the pool or the sea, but we also managed to see Grasse, Port du Vence, Saint Tropez, and Port Grimaud. Grasse is quite beautiful, the visit at the Fragonard perfumery was great and the place itself is nice. Saint Tropez is a must see, but I wouldn't spend there more than the evening that we stopped to see it.

All in all a great trip, we had fun and ate a lot of marvellous things. The wine and food was probably one of the best part, we managed to sample a lot of typical dishes from the various regions that we crossed and we also manage to see the actual producers of France's most famous culinary products (such as Bordeaux wine, Sauternes, Roquefort and Fois Gras)!

Mission accomplished!



Comment 1
Lovely piccies - brought back some memories.

Posted by John's Mum at 2008/09/02 12:32:50.
Comment 2
JM: THANKS! :D

Posted by Lox at 2008/09/02 19:49:54.
Comment 3
Truly nice pics, Lox. Wonderful trip. I'm envious, which is surprising for someone who actually lives in France. But it is a known fact that one never visits one's own place.

Posted by Sheri at 2008/09/02 20:47:56.
Post a comment