New Year's Day on Miyajima
Posted on 2010/01/01 14:57:18 (January 2010).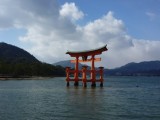 [Friday 1st January 2010]
Visiting Chie's family on Miyajima on New Year's Day.


Comment 1
As I said once, I like the look of Chie's father. His gaze exudes kindness.
Mind you, I could be completely wrong, but it's what I feel.
The only black spot in the family picture is that odd western chap...

Posted by Sheri at 2010/01/05 05:25:06.
Comment 2
Thanks Sheri!

Yes you're completely right - Chie's family are all quite lovely... and I do look like a bit of an idiot in their midst. :)

Posted by John at 2010/01/05 12:06:42.