Asakusa
Posted on 2010/01/10 00:47:14 (January 2010).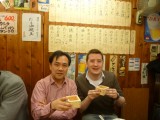 [Friday 8th January 2010]
Spent the daytime working from my company's Tokyo office, then in the evening met up with my friend Tanaka-san for a night out in Asakusa.


Comment 1
Lovely pictures especially the one with futon, I think it summarizes nights out in Japan for me, especially when you get totally wasted and even going back home is impossible!! :D

Posted by Lox at 2010/01/10 07:01:55.
Comment 2
Yeah. I quite fancy the spare, minimalist decor of the room in Ran-tei. We say "un style dépouillé" in French. Very sober and neutral.

Posted by Sheri at 2010/01/14 13:49:51.