Sunday in New York
Posted on 2010/05/15 16:40:35 (May 2010).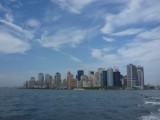 [Sunday 2nd May 2010]
On my previous trip to New York I'd also had a free Sunday, but that time owing to a combination of jetlag, lethargy and a hangover I'd ended up wasting it and doing pretty much nothing at all. Consequently, despite this now being technically the third time I'd been to New York, I'd never actually done any real sightseeing - having generally only seen the office, hotels and a few bars and restaurants.

So today I was determine to actually get out and do some touristy stuff. I started off with a stroll in the morning, down to 5th Avenue, to look for a handbag Chie had requested. Unfortunately it seemed the shop didn't have it, and so I trudged back to my hotel somewhat disheartened. It was unexpectedly hot in New York, and the streets, not all that aesthetically pleasing to my eyes, had seemed somewhat tedious to trudge around. So when I got back to my hotel I wasn't particularly enthusiastic about heading out again, but emboldened by the sense of what a waste my day off had been on my last trip, I was determined to find something to do for the remainder of the day.

I decided it might be nice to be on a boat, and thought originally I would just go for one of the normal passenger boats that linked Manhattan with the other neighbouring parts of New York and New Jersey. However I eventually got the picture that these boats are only for commuters, and so mostly don't run at the weekend. After much more searching I found a touristy type boat trip which seemed to meet my needs reasonably well.

So I headed over to the West side of Manhattan, and got on a 90 minute boat trip from there, which went around Manhattan island, under the Brooklyn Bridge, then back round again and past the Statue of Liberty. The commentary was a little nauseating, to be frank, but I suppose the scenery was interesting, as hopefully the pictures can attest.

Meanwhile some of my colleagues were spending the afternoon at a sort of Japanese festival, and after finishing my boat trip I perhaps ill advisedly decided to try and join them there. It turned out it was all the way out at a park in Brooklyn, and it seemed to take ages to get there. By the time I arrived the festival was already starting to wind up, and all I really caught was the "Cosplay" show at the end... which was, err, interesting I guess, but certainly not worth all the effort of getting there!

In the evening I went out for dinner with my colleagues to a restaurant called Apiary. Alarm bells started to ring when there was no vegetarian option on the menu - I enquired about this to the waiter who said confidently that the chef could put something together. I should have known at this point that this was my cue to make my excuses and leave. I ended up with a bowl with a mixture of all the vegetable accompaniments to the main courses on the menu. It was a medley os side dishes, and not even particularly interesting side dishes - definitely not a proper meal. Considering how pricy this place was I left very disappointed.



Post a comment