Bukhara Grill and Campbell Apartment
Posted on 2010/05/15 16:40:36 (May 2010).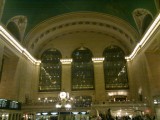 [Tuesday 4th May 2010]
I made my disappointment with the food in New York known to my American colleagues today, which they took with very good grace. I had imagined there might be retaliatory jibes made at British food, but instead, they set about trying to suggest places I might like, which I thought was very nice of them.

One colleague really went out of his way and very generously provided quite a long list of restaurants. However, given that the places I'd been to the first two nights had been places the locals considered to be very good, I wasn't taking any chances. After three nights of awful dinners I really needed a decent meal, so I went with the ultra safe option of an Indian restaurant that my colleague had recommended - the Bukhara Grill.

I certainly did have a decent meal for the first time so far on this trip, but unsurprisingly I've had better Indian food back in the UK - and this place was really pricey - a starter, main course, two beers and service came to a whopping $70 - almost £50 at the current exchange rate. That's really expensive for Indian food.

On the plus side this took me to quite a different part of New York - Midtown East - and getting there took me past the somewhat impressive Grand Central station. I went back by way of it as well, and decided to take a wander through the station which was rather pleasant - something of an architectural pearl amidst New York's generally rather samey buildings which really don't appeal to me all that much.

A colleague back in London had recommended I visit a bar called The Campbell Apartment, and whilst wandering through Grand Central I realised it was actually part of the station complex. So I thought I'd pop in briefly to see what it was like. The place struck a chord, and went some way to making up for the disappointment of the oldest New York bars which didn't seem to have made much of an effort to preserve their original character. The Campbell Apartment, on the other hand, whether real or artificial had quite a unique atmosphere which successfully evoked some sense of another era.

I walked back to my hotel from there, past the Empire State Building. Overall definitely an improvement on the previous evenings of this trip.



Post a comment