Back to London
Posted on 2010/05/15 16:51:26 (May 2010).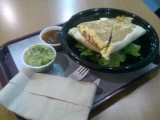 [Saturday 8th May 2010]
Got up at 5am this morning, but consoled myself with the fact this was actually quite a good strategy for re-adjusting to the time zone difference - this translated to 10am UK time, so it was almost like I had given myself a day's head start on beating the jetlag.

Caught a cab to Newark Airport, trying to cut it a bit finer than last time, remembering that Newark was a tiny airport which seemed to take no time at all to get through security etc, and also that there was pretty much nothing there.

Had a surprisingly nice breakfast in Newark Airport from a Mexican place there - I had a breakfast quesadilla, which was scrambled eggs with cheese in a flour tortilla, with some salad, salsa and guacamole. Whilst the general consensus seems to be that Mexican food is far better on the West Coast of the US than the East, regardless even here it seems to be the one exception to the general rule I had observed that food in America is mostly pretty bland and uninteresting.

Flight was very quiet, lots of empty seats. It seemed to have an older style of seat back entertainment system where the moves were not on demand, so I had to plan my viewing more carefully. Watched Nine, a decision I came to regret somewhat. Also watched A Single Man which was rather depressing but beautifully shot and very well acted (well done Tom Ford and Colin Firth).

The flight was longer than usual, thanks to the latest volcanic ash shenanigans, which meant we had to fly a more Southerly route than normal. So we landed at Heathrow about an hour late, and by the time I got back to central London it was around 10 o' clock.

Having not really had a decent meal on the plane (or indeed all week really, thank to the surprisingly poor standard on food in New York) and given that the coach from Heathrow would drop me off at Victoria Coach station, conveniently located on the edge of Belgravia, I couldn't resist going for a late dinner at Oliveto.

Pizza is apparently a big deal in New York, but I'd really not seen what all the fuss was about - on both this visit and the previous one I'd tried pizza places which were supposed to be very good, but to my tastes had been pretty bland and ordinary. Dinner at Oliveto confirmed that yes, I really did still like pizza, just not the sort they have in New York.



Post a comment