Camden Passage and New Blazer
Posted on 2010/09/26 16:22:24 (September 2010).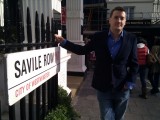 [Saturday 25th September 2010]
Partly inspired by some of the excellent costumes in Design for Living the other night (and also some of the better dressed members of the audience) and partly driven by the time of year (i.e. no longer warm enough to wear just a shirt outdoors, but not quite cool enough for a proper winter jacket) I decided I wanted to get something akin to a blazer today.

Also wanted to take a look around some antiques shops - I'd still like to get hold of some nice antique champagne saucers (am bored of the usual flutes) and also rather fancied getting some 1930s style trousers, as worn in Noel Coward's era. So we started out the day with a trip to Camden Passage, near Angel, for a browse around the antiques shops and market stalls there. I was really taken with it - a lot quieter than Portobello Road - and more of the sorts of things I might actually buy. We didn't find quite the right champagne saucers or trousers, but we did buy a handful of mismatched butter knives - a mere £1 each.

After that we headed down towards Jermyn Street to start looking for a jacket / blazer. We pretty much went to every clothes shop on the street, and I tried on quite a few different things. I normally don't like clothes shopping, but really enjoy visits to Jermyn Street - most of the shops are quite old and traditional and the staff are mostly the sort of genuinely well informed gents you'd expect to be working in this sort of clothes shop. I eventually settled on a blazer from Charles Tyrwhitt, which had a nice fit, seemed well made, and was a relatively good price compared to some of the other shops (I tried on at least one which was in excess of £400 - I just can't quite bring myself to spend that sort of money on clothes!). Although ultimately we had to go to the Regent's Street branch to actually buy it, as they didn't have quite the right size in the Jermyn Street branch.

By this time we were quite hungry, afternoon tea seemed appropriate given the time (and my new attire!), but lots of places seemed to be full, so we ended up going for dim sum at good old Royal China instead. This was good as ever, albeit that they seemed to have changed the menu slightly and one or two of the vegetarian dim sum I usually order seemed to have disappeared, plus they'd ran out of ho fun....

Anywho, we rounded off our shopping expedition with a (non alcoholic) drink at the Only Running Footman in Mayfair, as I'd been reading about it recently and wanted to see what it was like. It apparently has some connection with Jeeves and Wooster, and was at one time frequented by the servants of the big houses on Berkeley Square, with a bar divided into two halves, for different ranks of servants.



Comment 1
Good skills. I'd love to go shopping for some similar clothes if you're up for it?

Posted by Tom Rowan at 2010/10/03 13:45:56.
Post a comment