Sunny Saturday and Vegetarian Caviar
Posted on 2011/03/20 09:21:44 (March 2011).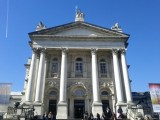 [Saturday 19th March 2011]
Started the day with a late breakfast at the Regency Cafe, which unfortunately meant we just missed the last slice of the much prized "bubble" (as in bubble and squeak). Never mind, the rest of breakfast was still delicious as ever.

It was a lovely sunny day, and although Chie had pretty much earmarked the day for studying for her course, we thought since we were out of the flat we ought to at least do something rather than just head straight home. So Chie suggested a quick wander around the Tate Britain. I particularly enjoyed the room filled with 1920s and 1930s pieces, including Edward Burra's famous The Snack Bar, which by coincidence they have a poster of in the Regency Cafe.

After this we headed back to the flat, but rather than coup ourselves up indoors we sat out in the gardens to enjoy the sunshine. Chie spent the time studying whilst I, thanks to the miracles of mobile Internet, updated my blog.

In the evening I wanted to have some of the vegetarian caviar Dad had given me for my birthday. Strangely we've never been able to find it in London and have actually only ever seen it in the Spar in North Wales, near where Dad lives. He also brought a bottle of Worthenbury, a Welsh sparkling wine made according to the methode champenoise which seemed like a fitting accompaniment to the caviar. Despite being a 2005 vintage the Worthenbury was youthful, very fruity and refreshing. To serve the caviar I made some very simple pancakes using just self raising flour, water, salt and pepper, fried in a little sunflower oil. They were surprisingly good, the inside was spongey and they had a not unpleasant flavour to them.

For our main course I made a red wine stew, with dumplings which also required some improvisation as out suet was out of date (from past experience suet is one of those things you really don't want to use once it has gone out of date). So instead I used butter which sort of worked, although leads to a somewhat softer, lighter dumpling.

I really enjoyed cooking this evening. I don't really do much baking, and tend to mostly stick to making soups, sauces and stews when I cook. I always assume flour requires a lot of processing before you can turn it into something edible (and makes a lot of mess in the process) - and I still have a bit of an Edwina Curry induced apprehension over handling eggs so that always seems like a big faff too. Plus I really can't be bothered with weighing and measuring things. So the little pancakes were an absolute revelation.



Post a comment