Suit
Posted on 2011/09/03 17:24:21 (September 2011).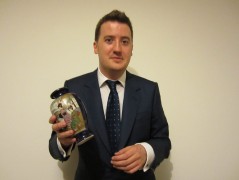 [Friday 2nd September 2011]
It had been three months since I ordered my suit from Norton and Sons on Savile Row - since then I'd had the first and second fittings, each spaced about a month apart, and earlier this week I'd had the call to tell me the suit was now finished, and ready to pick up.

I wanted to make a bit of an occasion of it, so arranged to pick it up at the end of the day on Friday, with the intention of then going out for a celebratory drink, with the suit on.

They actually refer to this last appointment as another fitting, and in theory they might end up making some final tweaks if anything wasn't completely perfect, but as it happens both the head cutter Stephen and I were very happy with the finished article, and so I left the shop wearing it, and feeling rather pleased with the end result. I actually met Patrick Grant (director of Nortons, and a bit of a celebrity in his own right) for the first time on this visit , which was a nice added bonus.

So, dressed in my new Savile Row finery, I then strode off in the direction of the bar at Claridge's, which seemed like a fittingly refined venue for a celebratory drink. I was by myself when I first arrived, and I couldn't help but think the level of service I received from the staff was somehow better as a result of my attire. I sat at the bar to begin with, but happened to mention I'd be joined by friends later on, and without asking they reserved a table for me. I thought that was a nice touch. I began with a bottle of Henriot (there's something excitingly decadent about ordering a bottle of Champagne when you're in a bar by yourself) and after a short while was joined by my friend Kyle from work, and then a little later on by Chie as well. We proceded on to a second bottle (a different Champagne, Thienot, for the sake of variety) when Chie arrived. I absolutely loved the couple of hours I spent here, in the very glamorous surrounds, in the company of lots of very smartly turned out people, and for once not feeling like I was in any way under dressed.

Kyle had to rush off to a friends birthday party before we left Claridge's, giving us a bit of time there to mull over what we were going to do for dinner. I was keen to try out Cecconi's, just off Savile Row, which seemed like an appropriately glamorous venue at which to continue our very decadent night out. I was pleased to discover they serve the full menu at their rather attractive bar, where you conveniently don't need a reservation. So that's what we did. We both really enjoyed the food - and rather superbly they had a special which was right up my street - parpadelle with porcini. As (I believe) it was a Venetian restaurant, it seemed appropriate to have a Bellini there, which was rather good too, and all the better for being mixed by a very smartly dressed bar man.

All in all one of the best nights out I can remember for a very long time - despite the fact we were home not long after 9!



Comment 1
Two things jump to mind:
1. Too fat for it by April.
2. The life you now lead is so far from anyone else I know, it's difficult to relate to!

Posted by Rob Lang at 2011/09/08 15:57:26.
Comment 2
1. I have significantly cut down on cheese, so I think I have it under control - besides I can easily take it back to have it altered.
2. This is just part of my continuing quest to escape the banal and the humdrum!

Posted by John at 2011/09/12 21:18:41.
Post a comment