Turin to Venice
Posted on 2012/06/20 23:01:51 (June 2012).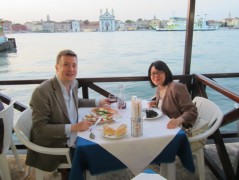 [Thursday 14th June 2012]
We awoke in our hotel in Turin at a reasonable hour, had a naff breakfast (as much as I love Italian food, breakfasts really aren't their strong point) and then headed out to explore Turin a bit.

It's a very grand and impressive city, which I think is probably mostly overlooked by visitors to Italy. Apart from some bikers who were staying at our hotel (who were passing through en route to Monaco, I overheard), it felt like we were the only tourists in the whole city. This would of course prove to be a pleasing contrast, given that we were bound for Venice.

I suppose part of the reason Italy has so many grand impressive cities is that originally these were all independent states, so all of these were effectively capital cities in their own right. Arcades and loggias seem to have been very much a key theme embraced by Turin's architects, and these make for convenient shelter for the outdoor seating of the city's many grand cafes. We poked our noses in at one of these, on the grand Piazza San Carlo (which has two churches on its Southern edge - yes, two churches). I think it was the Caffe San Carlo.The interior was similarly grand and impressive - I want to say rococo in style - classical but ornate and colourful, and with a huge and imposing chandelier. All of that lavish splendour and an espresso was a mere 1 Euro. This seems to be the norm throughout Italy if you stand up and drink it at the bar. Chie had a bicerin, which is a Turin speciality, a mix of hot chocolate and espresso. It was very sweet and very rich - you wouldn't want more than one of these.

We continued our wander from there to Turin Cathedral, wherein the famous shroud is housed. It's apparently only put out on display once every few decades, but slightly bizarrely we did at least get to see the box it is stored in.

Perhaps the real surprise highlight of our brief time in Turin was the market (I think it's called Porta Palazzo). It's apparently one of the biggest in Europe, and whilst (as appears to be the case with markets everywhere) there's a section selling all sorts of cheap tat you don't want, there was also a huge fruit and vegetable section, with row after row of stalls selling delicious looking fresh produce. I suddenly regretted that we weren't staying longer and self catering. Alas we still had four or five days of travelling ahead of us, and I didn't think anything would really survive. So we just consoled ourselves by buying some cherries, and otherwise just enjoying looking at it all.

Mindful of the time, after that we start to head back in the direction of the station, and had lunch at another place I'd chosen before we came - a kind of self service restaurant called Brek. They had a few vegetarian options available - probably not even a particularly concious effort, but the Italians just aren't as meat obsessed as their French neighbours. The food was rather nice - I had a sort of lasagne with pesto - and we ate in a pretty little courtyard attached to the restaurant.

After lunch we picked up our bags from the station, and headed to Porta Nuova station to get on the Frecciarossa (one of Italy's high speed trains) which would take us on the first leg of our journey to Venice - from Turin to Bologna. I'd booked us first class seats again, and whilst perhaps not quite having the finesse of the TGV's first class, they were still very comfortable, and the complimentary drinks were nice too. The train was running rather late, and we (perhaps ill advisedly) had quite a short connection time in Bologna - just 15 minutes. We asked the ticket inspector whether we'd be likely to make the connection and he responded with a delightfully non-committal hand gesture. What wonderful people the Italians are - even when they're being entirely unhelpful they're somehow charming with it.

As it turned out, the next train was slightly delayed too, so after a slightly frantic change of platforms we managed to make our connection. The next train was a Frecciargento, which I believe is slightly below the standard of a Frecciarossa, but again we were in first class and it seemed very comfortable. When the free drinks trolley came round I decided this time a small glass of Prosecco would be appropriate, which I sipped whilst excitedly anticipating our imminent arrival in Venice.

When it was first built, the railway bridge which connected Venice to the mainland was deeply unpopular with Venetians (so much so they tried to blow it up), and Ruskin was also not a fan. It is said that the best way to arrive in Venice is by boat. Whilst all of that may be true, the crossing of the lagoon by train was still a very exciting moment, and I was bordering on jumping up and down as the first glimpses of the city came into view.

We had chosen to stay our first night in Venice on the Giudecca, an island which runs along the Southern flank of the main island. I think the main draw for Chie was that the hotel had a swimming pool, but it also turned out to be a really good way to gradually ease ourselves into Venice - the Giudecca is quieter and far less touristy than the main island. So, from the station we bought our 72 hour vaporetto pass, and got on the vaporetto to Zattere, on the South side of the main island. There was a hotel shuttle boat which ran from there to the hotel. The vaporetto is Venice's water bus, and is pretty much the opposite end of the spectrum from the gondolas in terms of price. It is consequently rather basic and functional as well, and slightly disappointingly when seated you often can't actually see very much out of the windows. Perhaps this was unimportant for our first ride on the vaporetto, which went around the Western edge of the main island, past ferry terminals and cargo depots - so there wasn't really much to see anyway - although some of the cruise liners were a sight to behold, almost to the point of being rather intimidating.

We had a short wait at Zattere for the shuttle bus, which gave me my first opportunity to sit in amongst some Venetian buildings and soak up the atmosphere a bit. Then onto our hotel to check in and drop off our bags. The hotel had a sort of "executive lounge" which offered free drinks and nibbles, so we took advantage of that briefly before heading out for a stroll to find dinner.

Our stroll took us along the waterfront of the Giudecca. It has rather lovely views across the water to the South side of the main island, made even nicer by the fact that the sun was starting to set, and the already richly coloured facades of Venice's buildings were bathed in a warm orange glow. I think I actually managed to capture that in some of the pictures.

Before dinner we stopped off for an aperitif at Snack Bar La Palanca, which I'd read about before coming here, it being a place popular with the locals. It almost immediately felt like our local within minutes. I ordered a spritz - this seems to be a very popular drink in Venice - and pleasingly they always offer a choice of Aperol or Campari. I always chose Aperol and felt rather proud of myself for being unfazed by this question the first time I heard it (and it was in Italian as well). We stood outside on the quayside with our drinks, amongst the locals (pointedly refusing to sit at a table because we're not tourists). We only stayed for one drink but it was quite magical.

For dinner we went to a place also along the quayside called Tratorria do Mori. I had pizza again, and Chie had something which looked wholly unappetising involving squid ink (which she apparently really enjoyed). Whilst the pizza wasn't quite as good as the one I'd had last night in Turin, the location was just magical - we sat right by the edge of the water as the sun set over Venice. An absolutely fantastic start to our time in Venice.



Post a comment