Truffle, Porcini, Umbrella
Posted on 2013/09/14 22:44:49 (September 2013).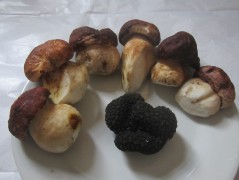 [Saturday 14th September 2013]
Various shopping today. Around 10:30 I headed out with Erika to go to Borough Market, as it seemed like the right sort of time of year to go looking for interesting wild mushrooms. I bought a black truffle from Italy (somewhere near Bologna apparently) and some ceps from France (since the stall was ran by Italians it was interesting they didn't just call them porcini). I also popped into the German deli while I was there.

From there we took the Jubilee line to Green Park where I picked up the second of the two shirts I'd ordered from Turnbull and Asser on Jermyn Street way back in June (there had been a bit of a mishap), and also had a look at some umbrellas in Briggs, in the Piccadilly Arcade. After that Chie met us at Green Park station, and we headed to Bond Street, to go to the Yves Saint Laurent shop where, to my surprise, Chie bought a bag. We've often been into one or the other of these shops on Bond Street and Chie normally has a look at something then goes away to have a think about it, and never goes back to buy it. She seemed impressively decisive today.

For lunch we headed over to Woodlands, partly just because it was the first place that came to mind in the vague area of Piccadilly which seemed baby compatible.

Our shopping expedition then continued on to James Smith, the umbrella shop on New Oxford Street, where I settled on a very modestly priced umbrella (compared to the ones I'd been considered in Briggs), rationalising that I might lose it like I had the last one, or worse still a really nice umbrella might even tempt some ne'er do well to make off with it.

From there we got the bus back home, where we had a bit of a rest, before venturing out again for a vaccination appointment for Erika (yes impressively they do these on Saturdays) and a bit of additional food shopping at Sainsbury's.

So for dinner we had a mycological feast with a Germanic twist - sauteed porcini on toasted pretzel bread to start, followed by spaetzle with black truffle.



Post a comment