Knightsbridge and Belgravia
Posted on 2014/10/10 22:30:21 (October 2014).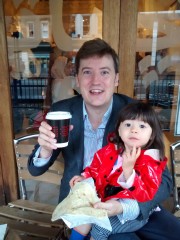 [Saturday 4th October 2014]
It rained a lot today, so I'm impressed we managed to get out of the flat at all really.

Towards the end of the morning we decided to head out of the flat, largely with the aim of going to Waitrose. Once we arrived in Belgravia, given the rain and both of us feeling a bit tired, we wanted to go somewhere for a coffee. For some reason the usual stalwart of Tom Tom didn't appeal, and instead we pressed on to Knightsbridge where I proposed going to Chapati and Karak so Chie could try it.

It was full inside, so we sat outside under the awning where we were more or less sheltered from the rain. Perhaps that was for the best, as judging by the looks from the entirely Middle Eastern clientele inside when we initially went in they didn't seem particularly thrilled at the prospect of us "foreigners" going in with a small child. Erika seemed to really like the chapati, and both Chie and I enjoyed the karak, (despite burning our mouths).

After that we went for a wander round Harrods, and in particular the childrens clothing department. I'd last been in there in the January sales, when we bought Erika a surprisingly reasonably priced Gucci cardigan. It was interesting to see as a contrast this time the prices these kinds of designer label kids clothes sell for outside of the sale. We bought a present for Chie's friend Ai-san who recently had a baby - a rather sweet baby blanket (not a designer label I hasten to add), but on this occasion decided not to buy a ~£300 garment for Erika.

We carried on from there to the Waitrose in Belgravia, the original object of our mission, and bought a larger than usual amount of shopping, at least in part because we wanted to use a trolley so Erika could sit in it.

From there we got a taxi back home, and spent most of the rest of the day in the flat, with the exception of a brief outing towards the end of the afternoon to try and get Erika to go to sleep, as she'd only had a very short nap earlier on.



Post a comment