Wednesday in Venice
Posted on 2016/10/30 11:48:20 (October 2016).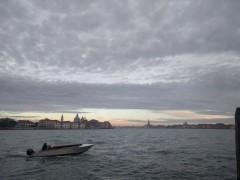 [Wednesday 26th October 2016]
Turin isn't particularly close to Venice, it takes about four hours by high speed train. On my trip to Italy last year I had gadded about all over the place, but as Dad came along this year it was a different type of holiday, and he much preferred to be based in one place. I had ummed and arred a bit about whether I really wanted to go all the way to Venice on this trip - but in the end I didn't seem to be able to resist.

Dad and Janie stayed behind in Turin as they thought it would be a bit too much travelling. So this morning I had a relatively early start and got a Frecciarossa 1000 leaving Turin just after 8am. Of course I chose Executive class again, although given the timing of the outbound trip I didn't really get to enjoy much of the onboard hospitality - a bit too early for lunch, and Italian breakfasts are not much to write home about.

I had a change of trains at Bologna Central, which looked very different from last time I had changed trains there back in 2012. That time we'd only just made our connection with barely a minute to spare. This time it seemed to take forever to get from the platform I arrived at, to the platform the onward train to Venice went from.

Anyway, not long after midday the train was crossing the lagoon to Venice, over that long rail bridge, which feels a bit more like being on a ferry given the views of the water.

On arrival I immediately launched into a bacaro crawl - as I was only going to be staying one night I didn't have much with me, so it was no great inconvenience to carry my luggage around, and probably too early to check into my hotel anyway.

My first port of call was a new bacaro for me - Bacareto da Lele. Presumably "bacareto" is a diminuitive of "bacaro", and this place was really tiny - inside there was only space for a handful of people to stand, and almost all the customers were outside. Most appeared to be locals, as far as I could tell - at the very least they were talking Italian (or maybe even Venetian) and they certainly didn't look like tourists. They mostly focus on little sandwiches for their cicchetti offering, and the ombra (glasses of wine) are also in miniature, which is the way I like it. Even by bacaro standards this had the impression of somewhere nobody lingered at for more than a few minutes, but I actually rather liked that about it.

Next, another new one for me - Osteria da Codroma - apparently a favourite of Nigella Lawson. This looked more like a restaurant on the inside, and unlike da Lele, which had a healthy throng of people outside, it was fairly quiet here - just a couple of guys at the counter, and one table of people sitting down. The wine glasses were quite large here, which again felt less bacaro like to me, but I suppose standing outside, with a barrel to rest my glass on, by the canal with a little Venetian bridge made for a nice enough setting.

Next I dithered a little, thinking it might be nice to have lunch, and attempted to get across to La Giudecca so I could visit Snack Bar La Palanca, but I couldn't get any of the machines for the vaporetto to sell me a ticket. Instead I just headed back "inland" and went to Cantinone Gia Schiavi next. I ordered from the slightly intimidating landlady there and she rather curtly corrected my naive attempts to formulate Italian sentences as I went along. I did manage to have three rather nice ciccheti there though despite this, and also a Spritz con Select which made me really feel like I was properly in Venice. I only discovered this bacaro on my previous trip, but I would definitely put it in my top 3 - it's a lovely spot opposite the San Trovaso boatyard, and often accompanied with the ringing of the bells of the campanile of San Trovaso church.

A bit more wandering ensued, and I came to my fourth bacaro of the afternoon - another of my top 3 - All'Arco. It had actually been closed on my previous visit to Venice, but I had liked it so much on the first trip I went there twice. I think I managed the pinnacle of my Italian for this whole trip while I was in here, and succeeding in negotiating the entire transaction without any English. Although I think the nice chap who runs the place was sort of humouring me a bit. I had a particularly delicious ciccheti here - some kind of cream cheese, flavoured with truffle, with a piece of porcini on top. A delicious morsel.

After leaving All'Arco I walked 5 metres round the corner into Cantina do Mori. All'Arco almost always seems to have a buzzy crowd around it, but do Mori, despite being the more historic of the two - and probably the oldest bacaro in Venice - has often been empty when I've been. Perhaps it's something about the lighting in there which puts people off - it is a bit dingy - or maybe it's the rather melancholy persona of the chap I assume to be the owner. All'Arco seems to just accept the inevitability of the tourists and tries to make the best of it - the staff always seem quite cheery and welcoming. At Cantina do Mori the owner really seems to wish things were different. I did my best to try and get him to perk up a bit, asked him (in my best attempt at Italian) what his favourite of the wines on offer was - I even offered to buy him one, which he politely refused. That did just about get a smile out of him though. I personally don't mind the dim lighting at Cantina do Mori, and the fact it is more of a place for quiet reflection than many of the other bacari. Even the rather glum owner adds some sort of poignancy to it. This is probably the place where you get most of the sense of the ghosts of Venetians of centuries past.

I thought it probably time to go and check in at my hotel at this point, so hopped across the Rialto bridge, and was warmly greeted by the staff who all seemed to remember me from last year.

After a bit of a rest at my hotel, I headed out again, feeling somewhat peckish. I think you probably can just about eat a full meal's worth of cicchetti whilst on a giro di ombra (the Venetian phrase for a bacaro crawl) but it's a bit harder if you're only choosing the vegetarian ones. So I decided to revisit Arte della Pizza, the excellent little backstreet pizza place, where they seemed a bit reluctant to make a whole pizza to order at this funny time of day, but relented in the end. Obviously I know full well pizza has nothing whatsoever to do with traditional Venetian cuisine, and generally any mention of pizza on the outside of a restaurant in Venice is pretty much a sure fire sign it's going to be a tourist trap, but Arte della Pizza actually does seem to mainly serve the locals - it's not a restaurant, more of a takeaway place with just a couple of stools and a shelf. While I was there I saw quite a few regulars come and go, who the staff seem to know by their first names, which is obviously a good sign. The pizza is really rather good too.

I was a bit unsure what to do with myself after that. First I went to the wine shop I remember having seen a sign outside last time advertising the sale of torbolino - the new season's wine, still not quite finished fermenting. I was hoping to just have a glass on the spot, but it turned out they only did off sales. So I bought a litre of the stuff, which they put in an old plastic mineral water bottle for me, and was charged the trifling sum of 2 Euros and 50 cents. And people say Venice is an expensive place to visit?

Then I finally managed to get onto a vaporetto - an old lady having advised me I should just buy the ticket onboard, as most of the ticket machines still seemed to be playing up. I think I did a bit of back and forth, having managed to get on a vaporetto in the wrong direction initially, but eventually I was heading down the Grand Canal and across to La Giudecca.

I got to good old Bar La Palanca around 5:30, just in time to see the sunset, such as it was today, given the slightly overcast skies. I had a Spritz con Select and stood by the water's edge, looking back to the main island, and I think, on balance, this was probably my favourite part of the day.

From there I got the vaporetto back to San Marco, and wandered back to the Rialto area through the windy streets as it was getting dark. Possibly popped back to my hotel for a bit first - I can't remember now - and then headed out to fit in one more bacaro - another new one for me this time - Osteria Alla Ciurma. I think I have come to the conclusion the bacari are very much daytime places, some of the more traditional ones would already have been closed by the time I got here, just before 8 o' clock. You do see people who I assume to be Venetians out and about in the daytime, but once night falls they all seem to disappear, and places like this seem to be exclusively colonised by tourists. So it's hard to form an opinion about Alla Ciurma, probably deserves a revisit in daylight.

I had sort of run out of things to do again by this point, after an unsuccessful meander about I got back on a vaporetto again, heading back to San Marco once again. I vaguely thought I might go into Harry's Bar, knowing full well it does tend to just be full of American tourists, but the group of young ladies who were also on the same vaporetto, and gave the impression of being on something like a hen party (albeit a comparatively civilised one) rather put me off.

Instead, I found myself drawn back to the back bar at Caffe Florian, wherein I had a nice chat with one of the head bartenders there (I think I had met the other last time), although I suspect I may have inadvertently caused some slight offence when tasting my second cocktail - a Tintoretto - and remarking how light it was - compared to a Negroni.

Venice takes on a funny sort of atmosphere at night time - I'm sure it can be mysterious and alluring, but by the time I'd left Florian the dark streets and increasing scarcity of people felt actually ever so slightly menacing. I had a distinct desire to be indoors somewhere bright, warm and cosy. So I decided to just call it a night, and head back to my hotel.



Post a comment