Nutbourne
Posted on 2016/11/06 17:37:04 (November 2016).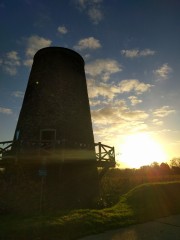 [Saturday 5th November 2016]
Since the utterly lovely day out we had in September visiting Nyetimber I'd been really keen to get back down to West Sussex again. Partly just to linger a little longer in the wonderful Rising Sun in Nutbourne, but also to do what we hadn't quite managed to fit in on our last trip - a visit to Nutbourne Vineyards, which lies inbetween the village of Nutbourne and Nyetimber's vineyards.

So today I thought I'd take advantage of my copious free time while Chie and Erika were still in Japan and do just that. I got a relatively train out of Victoria in the morning, and was in Pulborough by 11:30, ready to retrace our steps from there to Nutbourne. I managed the walk a bit quicker this time round, as I was by myself and already knew where I was going, although the last little bit across the fields before Nutbourne this time was a bit more challenging as there were electric fences across the public footpath! I did my best to go round, but did eventually have to duck under one, which was a tad unnerving.

I arrived at the Rising Sun around 12:15, and having originally planned to just linger there I actually had a fairly quick lunch, thinking I might be able to get to the vineyard and back in time before they closed for the afternoon at 3pm.

Back in September we'd managed to take a wrong turn not long after leaving Nyetimber, and instead of walking through Nutbourne vineyards as we should have done, we ended up having to clamber over fences and tramp across some fields. This time I figured out where we'd gone wrong, and it seemed almost embarassingly obvious - where we'd taken that wrong turn we were in fact only 10 metres or so away from one corner of Nutborne Vineyards. Ho hum!

On arrival at Nutbourne Vineyards I got a message from Natalie, a friend from work, who had initially expressed interest in coming along again (having joined us last time in September) but had apparently overslept, so I thought was going to give it a miss this time. To my surprise though she actually seemed quite determined to come anyway. So I killed time for an hour or so wandering around the vineyards which, was very pleasant in the crisp Autumn air, and the ground littered with golden brown leaves from the vines and surrounding trees.

Natalie arrived around 2:30 and we went and did a tasting of Nutbourne's wines in the former windmill they happen to have on the site, which made for a lovely venue - albeit a bit cold! We sampled quite a few wines from Nutbourne's range, but the standouts for me were the sparkling wines - their "Nutty" range - perhaps not the most sophisticated name, but the wines themselves are definitely very sophisticated. They follow the methode champenoise as far as I could tell, and the composition of grapes is similar - mostly Pinot Noir and Chardonnay - but instead of Pinot Meunier they use some Reichensteiner, a German grape which was one of the more typically grown grapes in England prior to the recent dominance of the three Champagne varieties.

We also did a brief tour of the winery - something which was off limits at Nyetimber - and particularly excitingly got to watch them disgorging their sparkling wines prior to second fermentation. This is the process where, to remove sediment from the yeast from the first fermentation, they upend the bottles, freeze the necks, then pull out a sort of icy plug containing all the solidified sediment.

The weather had mostly been rather grey and overcast, but in our final few minutes at Nutbourne vineyards the skies cleared a little, and we had some lovely golden views of it as we were leaving.

We'd hoped the rumours of the Rising Sun closing in the afternoon might have been greatly exaggerated but they turned out to be quite true. So instead on the way back to Pulborough station we stopped off at the White Horse for a quick drink, and to warm ourselves by the fire. We'd turned our noses up at this pub from the outside on the previous trip, and I'm glad we gave it the benefit of the doubt this time, as it's actually quite nice inside - they use empty Nyetimber bottles for candle holders, which the landlord quipped was simply a result of the amount of the stuff they get through there!

As seems to be becoming the tradition, we had chips on the train from the fish and chip shop next to Pulborough on the way back.

After arriving back in London, Natalie went off to see some friends near Victoria, and I decided to pop by the office in King's Cross to see if I'd be able to see any fireworks from the roof terrace, it being November 5th. When I got there I realised quite a few other people had had the same idea! I was able to see quite a few firework displays, mostly over towards East London, but they were all a bit too far away to get a decent picture of. Still a nice way to round off the day nonetheless.



Post a comment