Herefordshire to London
Posted on 2018/01/28 09:18:30 (January 2018).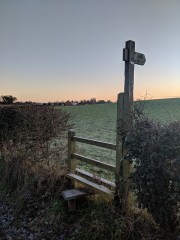 [Sunday 7th January 2018]
I pride myself on thinking a lesser man might have got in a flap yesterday on realising that it wasn't going to be possible to get a taxi back to Leominster this morning, as none of the local taxi companies were working, it being a Sunday. Before I came on this trip I'd already considered the backup plan which was just to walk, it was, after all, "only" 6 or 7 miles.

It has become a bit of a tradition that many of my forays out into the countryside result in an extended and often unplanned walk, sometimes through challenging terrain, and not uncommonly with an element of a race against time, to get from one point of interest to another. Past examples include the time we went for the Nyetimber vineyard tour (which included clambering over barbed wire fences owing to getting a bit lost en route, having had far too nice a lunch at the Rising Sun beforehand), The Amberley outing (where the walk was necessitated by failing to get off the train in time at the correct stop), The Orchard Tea Garden in Grantchester (which would have been a pleasant stroll had it not been unseasonably warm and we had a 4 year old to carry most of the way), and most recently the foray to the Shipwright's Arms near Faversham (a trek through a rather bleak marsh, more a psychological challenge than a physical one on that occasion). My London friends have observed this trait of mine - when they are in tow on country jaunts it is usually me doing the planning - and tend to humorously refer to these engaging spontaneous perambulations as "death marches".

On previous occasions the requirement for timeliness has typically been around trying not to be late for a lunch booking, or in the case of Nyetimber a booked slot on a (much in demand) vineyard tour, which we were hopelessly late for, and they very kindly shifted us to the following one. However in this instance I actually had a train to catch, and the trains were not particularly frequent, such that missing this train would mean I wouldn't be able to take Erika to her friends birthday party as I had been requested to. So the stakes were pretty high. Google Maps had estimated it would take about 2 hours and 10 minutes to do the 6.7 mile walk. My train was at 9:55, but I really couldn't bring myself to set an alarm for before 7 o' clock, so by the time I'd had a shower and checked everything in the cottage was OK before locking up and leaving it was 7:30, giving me only a small margin for error.

It was not yet fully light at 7:30, the moon was still in the sky, and the sun had not yet risen. I quickly realised one potential pitfall (almost quite literally) - there was a frost on the ground, and in some places the road surface was actually quite icy. I was trying to walk quickly, but also very conscious of the fact my brogues weren't exactly designed for this sort of thing, and had no grip to speak of on the soles.

It was obviously a bit chilly, but I quickly found that the swift walking pace meant I was kept fairly warm, and even came close to taking my coat off at one point (given that I was wearing a three piece tweed suit underneath), but chose not to as it would have been a faff to carry.

I checked constantly on my progress on the map, and once I had done the first mile or so, and was starting to gain confidence I would make it in time, I started to realise I was actually really enjoying myself. I was experiencing the unfamiliar sensation of a positive reaction to doing physical exercise, rather than the usual response of just feeling uncomfortable and / or bored, I think probably because there was a meaningful goal associated with it. That coupled with the scenery - gradually seeing dawn break - and the sense I had the whole place to myself for what seemed like miles around made for a surprisingly nice experience.

I only met one other person walking the whole way, a chap out walking his dogs, and only a few cars.

I did, however, fall over at one point. I had been constantly keeping an eye out for ice patches and avoiding them as best I could, but this particular one caught me off guard, and over I went. It hurt a fair bit, but I just got straight back up and resumed walking, albeit at a slightly reduced pace for the next mile or so.

I arrived at the outskirts of Leominster just after 9, and realised I would have enough time to even stop for a quick breakfast, if I could find anywhere open. This wasn't initially looking too promising, it being a provincial town and a Sunday morning, but eventually I came to a coffee shop which was open, and therein hungrily devoured a croissant, and, oddly, one of those Portuguese custard tarts. I recall there used to be a family joke about going for a 10 mile walk or some such before breakfast, and here I had almost done exactly that. I felt incredibly contented with my achievement and enjoyed my breakfast immensely.

When I got up to leave though, I realised my feet were suddenly in searing pain. Somehow I found this pain, though quite intense, to be also quite hilarious. Presumably it was some combination of inappropriate footwear, insoles that had warn through, and walking hurriedly on tarmac roads whilst trying to avoid the ice patches. I'm not sure Google Maps's 6.7 mile estimate took into account the amount of zig-zagging I had to do to dodge the icy bits. I eventually developed a large blister on both heels. Still felt oddly exhilarated despite the pain though.

Arrived at LEominster with still a few minutes to spare for the 9:55, which happily was running on time (I was a bit sceptical, it being seemingly the first train of the day and everything), and the connection at Crewe was also without issue.

I read Country Life again on the way back and looked at the scenery which somehow seemed even more appealing than it had on the way here - perhaps just the weather? Normally on returning to London from just about anywhere else I have at least a bit of a sense of relief at returning to "civilisation" where all the things Londoners get snobbish about and/or take for granted will be in abundance (public transport, good coffee, and so on), but on this occasion I had a distinct sense of actually being a bit sad about leaving Herefordshire and the countryside in general.

Walked through my front door at 2pm. It occurred to me I had spent 6 and a half hours in transit from that little cottage in Herefordshire.

I was back in good time to take Erika to her friend's birthday party, which I did still wearing my tweed suit. Obviously I tend to wear tweed all the time in London in clear contravention of the "no brown in town" rule, but not very often the green suit, which I tend to save for the country. It was very gratifying to be able to tell people at the party, when asked, that I had just come back from Herefordshire and maintain a pretence, at least in my own head, that I had my country house there.



Post a comment