Lewes to Hassocks
Posted on 2018/10/14 11:03:17 (October 2018).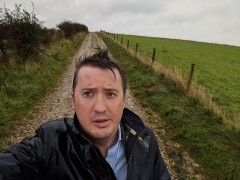 [Sunday 23rd September 2018]
When I did my first walk along the South Downs Way back in July, from Eastbourne to Southease, I hadn't particularly envisaged that I would eventually endeavour to complete the whole 100 miles in instalments. However after a couple of slightly underwhelming forays to the North Downs in the interim I had a definite sense of being pulled back in this direction, and by today, the third instalment (Lewes to Hassocks), it became clear I was on something of a mission to walk the whole thing, or at least the bulk of it. If nothing else it meant thinking of somewhere to go each time I want to go for a country walk became a lot easier - I just pick up where I left off the previous time.

Having done a short-ish arc around Lewes with Chie and Erika in August, today I decided to start from Lewes, and walk to Hassocks, the next station along the path. The weather forecast hadn't looked too promising, but I'd got used to walking in the rain on my various expeditions this year, so was undeterred. The climb out of Lewes was very pleasant, just a bit of drizzle here and there, which I barely noticed, and although the skies were decidedly grey I was finding it all quite exhilirating, passing some intersting sights along the route, including Lewes Prison and Tor Stables on Old Lewes race course, where it appeared there was some kind of open morning or maybe even a horse sale going on, and tweedy types were arriving in Land Rovers and swanning around with glasses of Champagne in hand at about 11am. I was tempted to try and gatecrash but I had walking to do.

By about midday, somewhere around Mount Harry, I was starting to get a tad peckish, and was glad to find a biscuit in my coat pocket, as I had no other provisions with me, and the planned pub stop was not until near the end of my walk.

Around 12:30 it started to rain with a notably greater sense of purpose. The wind also picked up, and the temperature dropped, to the point it started to feel quite unseasonably chilly. Before my first foray to the South Downs I had read that it can be subject to surprisingly extreme weather here, mainly by virtue of being so exposed on the hilltops, and this stretch around Ditchling Beacon was a good case in point - the rain had an almost icy edge to it, and this was only September.

It did eventually start to ease up some time after 1pm, and by the time I reached the Jack and Jill windmills as I started the descent into Clayton it had more or less stopped, although by this time I was quite cold and wet and felt no desire to linger for very long to admire the windmills, instead very keen to reach the (hopefully) warm welcome of the pub named after them at the bottom of the hill.

Although not too promising from the outside, the pub was exactly my sort of thing on the inside - an old pub carpet, farming paraphernalia suspended from the ceiling, hops above the bar, delightfully naff old place mats, and not a hint of Farrow and Ball paint in sight. I devoured a whole three courses of lunch very contentedly.

I then had a final 20 minute walk from there to Hassocks station, by which time the weather had changed quite dramatically, and some blue sky was evident.

Back at home in the evening I decided to harvest the grapes from the vines in the back garden, and had a rather half arsed go at beginning the process of turning them into wine.



Post a comment