Another Haircut Accident and White Truffles
Posted on 2020/11/07 12:30:08 (November 2020).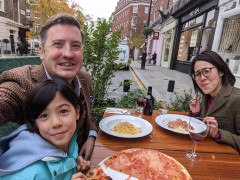 [Friday 30th October 2020]
Took another day off work to do something fun with Erika while she was still on half term, but once again struggled to find much in the way of available activities, so we just headed down to Belgravia for lunch at Oliveto - I was very keen to have their excellent tagliolini with white truffles now the season was upon us. Before we headed off I got the girls to have a go at cutting my hair, and it went a bit awry again.


Comment 1
3nin de gaishoku tanosidoune !
Erika chan , aisukuri--mu , oishisoune !

Posted by Yoko at 2020/11/14 03:06:03.