The Long Bus Ride Home
Posted on 2022/06/25 12:42:36 (June 2022).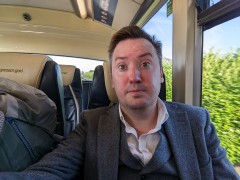 [Tuesday 21st June 2022]
Given the rail strikes planned for today, I attempted to get all the way from Avebury to London by bus.

To my surprise, there was a bus from Avebury to Swindon at around 6:15am, and I recall hearing somewhere that you can get a kind of day rover ticket for a mere £7.50, with which you can get all the way to Oxford. In my sleep deprived state, I didn't really think through whether getting to Oxford was actually a meaningful objective, but on arrival at Swindon bus station the S6 bus to Oxford was sat waiting there, and the alternative would have involved spending more than just a few minutes in Swindon, which after yesterday's brief tour was a prospect I wasn't at all keen on. In hindsight, I would have been much better off hanging around in Swindon for an hour or so (loathed though I was to do so) and then getting a National Express from there directly to London.

But no, I apparently knew better than this, and so spent something like an hour and three quarters on a long, slow bus to Oxford. That said, at least I was moving, there was plenty of available seating, and in my half asleep state I found it oddly relaxing.

This eccentric diversion via Oxford might have been justifiable had I actually stopped for a while in Oxford, perhaps had a hearty breakfast with some Dons amidst the dreaming spires.

But no, on arrival at the bus station in Oxford I saw just a few steps away was one of those "Oxford Tube" coaches, getting ready to leave, so I immediately jumped aboard that. This is pretty much a direct service into central London, but being beholden to the prevailing traffic conditions it is anything other than quick. It was something like two and a half hours to get to Marble Arch, where I arrived some time after 11, having spent 5 hours travelling on buses. For comparison, the train from Swindon to Paddington is usually just under an hour.

I had booked the whole day off work, predicting I might have some long and difficult journey home and/or would be somewhat sleep deprived so probably not of much use even if I did get back by lunchtime.

I thought I might have a nap when I finally got home, around midday, but somehow that never really happened, and impressively I managed to stay awake until gone 10pm tonight.

I spent the remainder of the afternoon editing together what little video footage I had managed to take, which was in any way usable, to produce the YouTube video. It's only 6 minutes in the end, which seems a bit of a poor show considering I was in Avebury for 14 hours, but there you go.



Post a comment