Wrapping up and a lot of troubles
Posted on 2006/12/17 08:12:15 (December 2006).
[15th - 16th December 2006]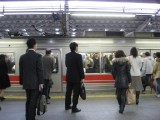 Pictures from this trip are up, sorry for the delay!

Friday was a relatively calm day at the office, only one client to see a lot of goodbyes to say.

In the morning I wrote a huge complain mail to my boss, who is is Antwerp for work, hoping to stir things up a bit under the contract side.

Before leaving I have also had a talk with the president of the section that deals with textile and the general manager, they asked me about the contract and I also told them the same things that I wrote in that mail.

It was interesting to think after the meeting that we spoke completely in Japanese, both for the contract related problems and the work related ones!

Anyways they started making phone calls, in five minutes I felt as if I hit a beehive with a sledge hammer!
They are going to have a meeting on Monday, and they told me that money and contract WILL be done within the year...

Let's see, it was important at this point to vent my rage and let them know that albeit young I am a professional and I expect to be treated likewise.

In the evening great dinner with Enzaki san, Nakamura san and Uo san. Lovely food and company for the last supper in Japan, this year...

Or at least SO I THOUGHT!!!

On Saturday I woke up extremely early, did all the packing, it's now a precise and meticulous routine, and I didn't seem to be able to find the train pass from Yutenji (the place where I lived) and Shibuya... This put me in a foul mood because it affected my schedule and it was totally my fault for having put the tickets somewhere instead of the place where they were meant to be...

Anyways I got out and bought the tickets, a little waste of money (aroung 1,5 Euro).

I then got on the train and enjoyed the marvels of my Ipod, that kept me company until we arrived at Narita.

Here the tragedy.

The marvels of my Ipod are actually quite sweet, but listening to music completely lowered my attention threshold, and while getting to the check in counter I left PASSPORT, TICKETS and MILEAGE CARD all in the basket that is part of the trolleys that you use to carry around bags.
Since for some strange reasons you arrive on the ground floor, but the check in is on the second floor, and you cannot bring the carts upstairs...
As a result I lost everything!

I went immediately to the police, information counter, airline counter to report the loss, and I kept looking around the station like a madman!
Needless to say that I was sooooo pissed off with myself and the world for such an amateurish mistake, but the fact was that I was not leaving Japan, not even the next day, as the embassy is closed and there is no chance to get a replacement of the Passport...

Fortunately I asked one of the guys who handles the carts, who eventually got in touch with another guy that apparently is the responsible of that floor, and he had the stuff!! He found it but was waiting for lunch break to hand the package to the information counter...

So in the end I managed to get on board and get to Munich.

Here more troubles for me (cursed trip this one).

My watch is broken, it got broken the very first day of the trip, basically a small bit of metal got detached and wonders freely around the dial.
Well IT GOT BLOODY STUCK, and the watch stopped, shame that I didn't realize until it was almost too late.
I was infact in this business lounge and connected on the net on one of the free computers to check what Fiorentina was doing.

To my amazement the first half was already over, the match started at 18:00 so that meant that it was 18:45... But my watch told me that it was 18:00...

I managed to get on board this other plane as well, and arrived in Florence tired, stressed and all...

What a trip!



Comment 1
Phew! Glad you got back in the end though! "Stress" is probably an understatement!

I hope the watch wasn't an expensive one, Lox. You know, despite all the digital quartz wonders we have nowadays, I am rather fond of Seiko Automatics - which as you probably know are as common as dirt in Japan!! (That's probably a bad analogy as I suspect Japan is rather clean!!) I also quite like some of the more stylish Orient brand watches too.

Posted by Nigel at 2006/12/17 08:22:55.
Comment 2
Ah Lox! (decrescendo) Lox, lox, lox, lox! What are we gonna do with you, hey? What a fierce world it is!

Posted by Sheri at 2006/12/17 08:37:47.
Comment 3
Glad to hear you made it back despite all the difficulties!

Must be nice to finally have some quality time in the new house!

Posted by John at 2006/12/17 11:10:02.
Comment 4
Nigel: The watch is a SECTOR, but it's not technically broken the metal part that is roaming around can be fied easily...

John: Interesting that you say so. My new house feels very new indeed! There are a gazzillion things that I must do and very little time to relaz I am afraid :(

Posted by Lox at 2006/12/17 11:36:37.
Comment 5
Excellent, saved by a football match. Well i have to admit that football appears to have at least one good use after all :)

Posted by Kev at 2006/12/17 13:37:46.
Post a comment