New Year Party
Posted on 2007/01/01 22:15:22 (January 2007).
[31st December 2006 - 1st January 2007]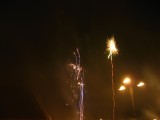 The party this year had to have a different note to it. No more pantagruelian dinners, but rather a quick set up, in order to manage to get out of the dinner place well before midnight to get to the centre of Florence for the ritual celebrations.

So we decided to go for yet another "Pugi Cena". I say yet another because we had a pre-Christmas edition of which I didn't give account on the blog (my mistake actually).

Anyways all things set it was clear that there was a huge quantity of food as usual, infact part of it was left to Antonio who arranged for the location (his place).
The location deserves a couple of words, as Antonio lives IN a school, as his parents are the guardians.
This is one of the most important high-schools in Prato, so you can imagine the happiness in going around the empty and dark hallways... It looked like a horror "B" movie where they kids have a party and the assassin kills them all.. TOP STUFF.

Anyways, no assassins where to be found, so we decided to kill ourselves digging into the pile of food that we mustered for the night.
I think that I have lost a good 4 years of liver just from eating.

Nasty note of the night was the very small consumption of alcohol, only two bottles of wine, not a lot...

Around eleven we moved to the centre of Florence to have a street party. We managed to arrive just in time, and we wondered around the centre for a while, witnessing to all sorts of scenes, ranging from people collapsed in puke pools, to other guys shooting firecrackers and fireworks that would get the ground shaking!

There were quite dangerous parts, especially in the main squares where people got into the habit of throwing champagne bottles on the ground. Of course this is both dangerous and stupid, but such is life...

We got home quite early compared to other New Year's Parties, but it was a good one a good way to close the year 2006.

Happy 2007 everyone!



Comment 1
Ha! Excellent setting for a party, Lox! did you have to stay behind in "Detention"! (If not, you were obviously not naughty enough!! :)))

Posted by Nigel at 2007/01/01 22:45:49.
Post a comment