Francesco Stag Do
Posted on 2007/03/24 18:42:56 (March 2007).
[16th March 2007]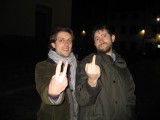 Yes, it has been quite a long time since I have updated my blog... Exactly two months and eleven days...

There are may reasons for me having been absent from your screens, maybe some of you did even miss me writing, maybe nobody realized it.

Since this is the first post after a period that I would not call entirely "easy", I will just pick the writing from where I left it a long time ago: a Stag Do night organization.

If you remember I didn't quite like the fact that my mate Francesco was so keen in turning down our proposals for a stag-do, as a matter of fact after the last piece that I wrote (the post before this one) he wrote me quite a nasty mail, which technically helped me remind that I would have done a better job at worrying about my life going pear shaped rather than trying to organize his party.

Though my life was quite hard already, eventually I managed to swallow the bitter chalice and decided to forgive the incident.
Then, albeit late, I mustered few of us to actually do this thing.
As a matter of fact, after one month it seemed that now Francesco wanted to have his stag do! (I suspect that it is because his to be wife had her hen's night).

ANYWAYS, the important thing is that we organized it.

To be honest there have been many proposals, but since Francesco kind of put a veto on every unknown female presence (read: whores/strip bars etcetcetc) we had to concentrate on different things.
In a way it's good that we didn't have a lot of time to organize it, because some of the proposals where simply TERRIBLE.

Someone wanted to throw him in the Arno river. This idea was cancelled as it is a bit cold now in Florence (not because the Arno is comparable to Chernobyl after the explosion in terms of pollution).

Someone proposed to have a GAY night (we were forbid WOMEN, but GAY strippers were technically allowed), then blackmail his ass forever.

Some other wanted to have a party in a wood, then with some trick we would have had to tie Francesco to a tree, then three hired people would have to arrive screaming and brandishing knives and black capes. We would have run away of course leaving Francesco there (tied)...

In the end we had a marvellous dinner at one of my favourite places, il Canapone, then we decided to go to Stefano's place to have more drinks and watch a movie that we all hate: "Druids".
This is a movie that I strongly suggest everyone to watch, because it sets the absolute lowest standard ever in terms of cinema films. After that even a movie like Phantom Menace looks good.

That's it really, we managed to stay together, like old times, no women, alcohol and tons of fun...

BEST WISHES FRANCESCO!



Comment 1
Nice to have you back in the blogosphere Lorenzo!

Posted by John at 2007/03/24 21:50:40.
Comment 2
Nice to have you back in the blogosphere Lorenzo!

Posted by John at 2007/03/24 21:51:43.
Comment 3
Sorry for the double post there - I posted using my new mobile - I guess that is to blame!

Posted by John at 2007/03/24 22:55:38.
Comment 4
Ha! Good to see a "Stag Night" Lox! ... I keep waiting for another friend of mine to "succumb" as it seems a long while since I attended a last night of ritual drunkenness ... Probably helped by the fact that most are now married... Well, actually two friends seem hell-bent on not tying any knots... Hmmm :( Oh well! :)

Posted by Nigel at 2007/03/24 23:57:54.
Comment 5
Long time no see you!!How are you??I'm fine.I was worried about you coz you've been quiet for a long time.Anyway I am happy that you wrote your blog again.Anyway,you look fine from your picture.

Posted by Junya at 2007/03/25 13:29:52.
Comment 6
Plz check my blog.
I traveled a lot of foreign places.From Jan.19th and Feb.15th and Feb.27th.

Posted by Junya at 2007/03/25 13:32:35.
Comment 7
John/Nigel: Thanks :D

Jun: Will go immeditely!!

Posted by Lox at 2007/03/25 23:40:48.