Paris NOT on a business trip
Posted on 2007/05/08 10:48:35 (May 2007).
[4th-6th May]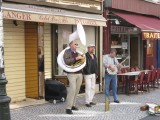 Finally after many years of wanting to go to see Paris not on a business trip I managed to go for a couple of days to actually see the city.

It is quite strange, thinking back, that in the last ten/fifteen years I have always been to the capital of France on business trips.
This means that until recently I quite hated the place, as it brings only memories of things made and done in the name of the god of business.
Yeah nice restaurants and hotels, but no chance to see all the works of art that cluster Paris.

It is quite lucky that Chiara is half French, and of course her parents have a little flat near the centre of the city. Well, actually in a rather central part of it.

So off we go, cheap flight from Pisa airport and by Thursday night we were near Hotel de Ville in a small, but rather nice, apartment in Paris.

The trip was focused on doing some shopping around, and of course trying to see as many nice places as possible. I wanted to go to the Versailles palace but the weather was quite shite and we decided not to go.
On the other side I managed (finally) to see Notre Dame from the INSIDE, instead of passing by it quickly without having time to go in.
Other places visited featured the Museum of Orsay, St.Eustache, St.Germain.

I managed to find a great jewellery box for my watches and rings, some strange spices that I had to buy and some other little amenities that I assume I could find only in France. Chiara on the other side tested my resistance by trying on a gazzillion clothes that of course she did not buy, but since we were on holiday I didn't complain TOO much. :D

We also bought a selection of cheese from a typical cheese shop, I can't wait to eat them!

The two days went past quite quickly, we had typical French gallettes for dinner on the first day and on the second night we went for a typical restaurant near home (we were knackered from walking all day), apparently a famous place (so Chiara sold it to me, but I suspect a white lie there being uttered).

Either than that the main and interesting point was that my view on Paris is now changed, I quite like the place, I understand why so many Italians moved there, although Italians moved everywhere so it's no surprise to see so many of the everywhere.

On Sunday we were back to Italy. Before leaving France we even managed to see a mouse happily moving among the tables of a bar at the Airport of Orly, but we thought it was something to do with French people being very animal friendly! :D



Comment 1
Geee, man! She IS cute, you know....

Transmets-lui mes amitiés...

Posted by Sheri at 2007/05/08 12:32:21.
Comment 2
I'm happy you had a nice time in Paris. Next time you should go visit Montmartre, it's very romantic at the sunset.

See you soon

Posted by Federico at 2007/05/08 15:31:42.
Comment 3
Monmatre was on the list but we didn't have time in the end... Oh well next time maybe...

Posted by Lox at 2007/05/08 16:19:41.
Comment 4
Hey dummy! "Epicerie" doesn't mean "House of spices"!!!!!

Posted by Sheri at 2007/05/08 20:22:29.
Comment 5
Ha.... what does it mean then? :D

Posted by Lox at 2007/05/09 00:04:19.
Comment 6
Great pics of Paris Lox! It looks like you had a great time in the City of Love!

Posted by dsp at 2007/05/09 02:48:43.
Comment 7
Really nice pictures Lox - glad to hear your enjoyed gay paris (old fashioned sense), and very nice to see Chiara for the first time. As Sheri says, she is very cute!

You, sir, also seem to get more and more of a handsome brute with every year that passes. What's your secret?

Posted by John at 2007/05/09 08:01:57.
Comment 8
Dsp: Yep, it was a good break, Paris is certainly a great city :)

John: Well I am not sure really... I am even getting fatter (injured my knee AGAIN so cannot do sport at the moment) and I am getting a lot of crinkles... Maybe it's that I am looking slightly older? OH beats me! Thanks anyway, I know that if I turn gay all of a sudden I can always come knocking at your door! :D

Posted by Lox at 2007/05/09 08:13:37.
Comment 9
Paris....... 'a' great city ?!!!

'Ze' greatest city of all, you mean...!!!


Posted by Anonymous at 2007/05/09 09:15:19.
Comment 10
As for the meaning of 'épicerie', why don't you ask your beloved fiancée ? To proud to reveal the breath of your ignorance ?

Posted by Sheri at 2007/05/09 09:18:01.
Comment 11
err... breadth

Posted by Sheri at 2007/05/09 09:18:46.
Comment 12
'Depth' is even better

Posted by Sheri at 2007/05/09 09:19:56.
Comment 13
Sheri: According to my research and sources it is equivalent to a "corner shop" selling various things, but especially SPICES and all things needed in the kitchen...

Posted by Lox at 2007/05/09 09:47:20.
Comment 14
Always need to have the last word, don't you?! And such a bad faith too...! :-p

Posted by Sheri at 2007/05/09 09:49:37.
Comment 15
I thought an epicerie was a shop that sold epics - such as War and Peace, and Doctor Zhivago.

Posted by John at 2007/05/09 11:25:47.
Comment 16
Great pics Lox! Splendid trip. I've never been to Paris - it's on my list though! Nice to finally "meet" Chiara!

Posted by Nigel at 2007/05/09 12:45:14.