Fireworks in Pisa
Posted on 2007/06/18 16:23:40 (June 2007).
[Saturday 16th June]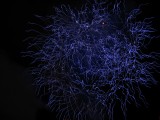 As many of you probably do not know, between Florence and Pisa there is a strong rivalry born in times where political and economical powers were at dispute in Tuscany, something 800 years ago.
Florence did kick everyone's ass and become the "capital" of the region, but the feud is still ongoing, even though it's more of a taking the piss out of each other than real hate.

Well, Francesco's wife Elisa is from Pisa (or Pysa to use an archaic terminology), and she invited us several times to the festivity of St.Ranieri (St.Patron of Pysa), as it was meant to be nice...

The party is called "Luminarie", and all the houses overlooking the Arno river are set up for the occasion so that all the windows are bordered with candle lights.
As you can see in the pictures the effect is rather nice.

The evening started with a pizza and then quickly into the centre of Pisa as the mass of people was getting bigger and bigger. By 11 PM the fireworks display started with its grandeur and glamour, it was all rather nice if it wasn't for two main problems.

1. Kids screaming
2. Kids and strollers

I don't want to sound insensitive, but there was hardly space to MOVE on foot, still there were countless parents who brought their kids and annexed strollers. You can imagine people falling on them, kids screaming because they were scared by the fireworks and all the likes.
Now, wouldn't it be better leave them at home until they are 3 or 4 so that they can actually like the fireworks?

The evening ended up ina very famous chocolate shop in Pisa where I could have a rather grand chocolate ice shake sort of thing (in Italy we call them "Granita"), and then it was time to go back for Florence.

A very nice evening all in all!



Comment 1
Spectacular pictures Lox! I particularly loved the effect of all the houses lit up along the banks of the river, with the sunset in the background - really great.

However, how do you explain the fact that the clearly inferior people of Pisa came up with such a fabulous visual spectacle?

Also my childish sense of humour was entertained by the fact that you had a Pizza in Pisa. I hope there is at least one restaurant there that profits from this hilarious bit of wordplay by naming itself "La Piseria", or something similar.

Posted by John at 2007/06/18 16:56:30.
Comment 2
John: To reply to the first question, they were influenced by the total extreme art that radiates from Florence and as you will see on the 24th of June we are going to have a slammer of a fireworks spectacle in Florence (for S.Giovanni, Florence patron) so Pysa fireworks will be re-dimensioned.

As for the second I am not sure, but if they have a place called "Piseria" I think that they deserve to be cleared by a tsunami of the Arno river because it would be the lowest joke ever! :D The pizza was actually quite nice, but it was not a Piseria... :D

Posted by Lox at 2007/06/18 17:38:49.
Comment 3
Stunning photos Lox!! Really amazing! You have a great talent for taking pictures of fireworks, I must say! Splendid - every one of them!

And as john says, those illuminated buildings along the river bank look superb. It must have been great to be there! :)

Posted by Nigel at 2007/06/18 19:28:56.
Comment 4
Nice pics...

Did you use the Bulb setting on your camera?

Posted by tom at 2007/06/28 14:01:02.
Comment 5
Tom: No, I have a "fireworks" filter, which basically delays shutter opening by 1.3 seconds, so you get all the "filaments" of light. It can be done with any camera that allows fiddling with aperture speed.. I use these settings a lot also for night pictures with no flash (I hate flashes)...

Posted by Lox at 2007/07/01 01:00:53.