S Giovanni Night
Posted on 2007/06/25 15:50:50 (June 2007).
[Sunday 24th June]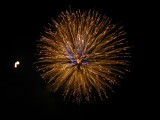 S.Giovanni is the saint patron of Florence and as a recurrence on the 24th of June we celebrate with a great fireworks display.

Around 22:00 the show begins, most of the citizen crowd the riverbanks for a couple of hours before everyone goes back to its own house (or even someoneelse house if you managed to pull).

This time there were only three of us, me, Federico and Gianfranco, but we were quite pleased as the fireworks display was really excellent and of course dwarfed last week festival in Pisa for sheer beauty, length and effects.

Of course in Pisa there were more of us, which is a bit of shame, but it seems that all the people were away from Florence enjoying some seaside holiday break.

I'll let the pictures speak, this time no comments at all, after all there is very little to say...



Comment 1
Fantastic pictures again Lox! Your camera seems to do a really good job of fireworks.

I particularly liked 22:18:38.

...I also liked the way most of the pictures seem to have a little white "worm" in them - previously this is the next firework, prior to detonation?

Posted by John at 2007/06/25 20:27:57.
Comment 2
Yes, splendid photos again, Lox!! I really am coming to the conclusion that should you wish for a career change, then I might suggest a "Firework Photographer", as it seems to me you have a great skill in this field!! Simply superb! :)

Posted by Nigel at 2007/06/25 23:15:29.
Comment 3
Hi Lox,

also I and Luana were to see fireworks, to the Piazzale Michelangelo, just under the show. I think that this time they were very spectacular.

Posted by Fabio at 2007/06/29 23:17:20.
Comment 4
Fabio: Ciao Fabio!! Great stuff, nice to have you on board!! Actually we already spoke about that night so there is little more to say :D

Posted by Lox at 2007/07/01 01:01:45.