Giulia
Posted on 2007/07/11 10:08:22 (July 2007).
[Sunday 8th July]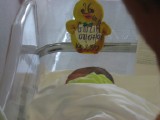 Generally speaking the Sunday would have been quite uneventful if Giulia did not decide to finally come out of Angela's belly to start her brand new life.

Angela and Ivan are part of the the group of friends that, member more member less, always meets during weekends or special occasions such as weddings, parties, new year's ans stuff like that.
Ivan and Angela are the first couple among us who got married and who is now nt a couple anymore, but rather a family with a child.

Some of us received the mandatory sms early in the morning, others, like me, got it a bit later on, but all of us were already aware of Giula being born and we organized quickly the "raid party" to go and see her.

Ivan was extremely happy, full of energy even though they did not sleep at night and the actual birth was not easy peasy as it is written in the books. You can tell that he really wanted the baby.
Angela was rather happy but very much tired and still in pain, of course you can see her face lighting up a lot when she talks about the baby and she obviously could not wait to get out of the hospital and take the new member of the family home!

Giulia herself is rather nice, although newborn babies are seldom "nasty" or "ugly", it will be nice to "meet" her properly when she will be back home (although I will not see her because I will be in Japan)...

Nothing more to say. I still cannot get that "father instinct" when seeing small babies and kids, I think that maybe it's not my time yet, I dunno...

But I am happy for Ivan and Angela and I wish them all the best, today that's what it counts.



Comment 1
Lox: I don't think you get the "father instinct" until AFTER you have a baby of your own. Ladies, yes, I think they get the need to have a child but men only get interested if it is their own, once it is out in the world!

That's my own view - where's Sheri to give us his! :D

Posted by Nigel at 2007/07/11 16:41:30.
Comment 2
Nigel, I wasn't interested in babies, until I had my own, and, of course, my lovely granddaughter.

Posted by Mad Mumsie at 2007/07/12 08:49:14.
Comment 3
Nigel + MM: Ivan was the one in the couple that really wanted the baby. He then convinced Angela (of course) but I have never seen such a commitment to having a baby in a male.. So I look at myself and think that I do not share the same ideas at the moment, fortunately your two comments put this idea into prospective, although I still don't see myself as a father at all.. Am I sick or will it come sooner or later?

Posted by Lox at 2007/07/12 09:25:33.
Comment 4
I don't think you are sick Lox, not at all. I didn't much care for other people's children either, but of course when mine came along I realised they were the best in the world!! Such was the arrival (for me!) of the paternal instinct!!

Posted by Nigel at 2007/07/12 20:26:29.
Comment 5
MM - :D

Posted by Nigel at 2007/07/12 20:26:52.
Comment 6
One day mate, one day.

Posted by tom at 2007/07/17 13:41:55.