Enoshima Island
Posted on 2007/08/02 01:03:03 (August 2007).
[Saturday 28th July]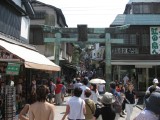 Today I went with Yuki san, a colleague from work, to see the famous Enoshima Island, near Kamakura. The two other members of the expedition did not join us in the end, so it was only the two of us.

We set off in a very hot day, I think that during this trip the monsoon must have been at its peak because there were hardly "good" days under the weather point of view.
Anyways we got the metro to Kamakura and we stopped at one of the biggest and most famous shrines of the area (Kamakura counts more than 700 shrines).
Shame that I forgot the name of it!!

Well, Yuki decided that it was going to be a good experience to write some Kanji, so we got these prayers where the ideograms are all greyed out and we got to use the Kanji brush that normally it's used in these occasion to copy over the symbol.
I guess that I did a decent job, although Kanji writing was never my strongest point in University days!

After a tour of the shrine (that I must say I had seen before) we moved to Enoshima, the main dish of the day.
Enoshima is a small island, but it's rather interesting full of green spaces and hawks and eagles (yes, eagles and hawks also have this habit of flying down to physically take any kind of food you might have in your hands....).
We took a full tour of the island walking an endless number of steps to get to the other side where there are some caves that can be visited, but we did not enter.

After a great lunch on the island we had to go for the mandatory Enoshima Beer, which we quite enjoyed, Yuki told me that there are several breweries in Japan producing small amounts of beer only for the local areas...

We then moved back into Tokyo, or better Yokohama, and we went to the Landmark Tower area. Incidentally that was the VERY FIRST place that I actually visited in Japan, my host mother took me there on the third day that after I arrived for the first time, now ten years ago... Lots of memories coming back, but lots to look forward to, especially a very nice Chinese restaurant that served us great food for dinner. Yuki apparently comes here often with her friends.

That was it, after a coffee at Starbucks we went back home, a great day, took my mind off work related problems and stress due to the long trip!



Comment 1
Nice pictures Lorenzo!

It's cool that we've visited some of the same places in Japan. As discussed on the message board, Enoshima was always one of my favourites.

Plus I'm gald you got a chance to try the Enoshima beer! Malty, isn't it?

Posted by John at 2007/08/02 07:49:34.
Comment 2
Splendid pictures, Lox! Looks like a really nice "day off" from the stress!

Posted by Nigel at 2007/08/03 22:12:26.
Post a comment