Dinner Party
Posted on 2007/11/25 19:30:36 (November 2007).
[Saturday 24th November 2007]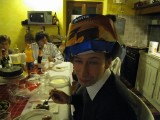 Fabio and Luana moved to their new house around one year ago, but saving from some members of the group of friends that we usually hang out with I never managed to see it.

Today they decided to throw in a dinner party, needless to say that of course everyone was speculating on the REAL reason that got them to invite 11 people to their place (and pay for the dinner may I add)... A baby? Twins? A new job?

Well, our malicious minds did not manage to be satisfied because there was really no hidden meaning to the invitation.

Anyways the dinner was marvellous and they really put a good effort to it, they made Gnudi (the filling of Ravioli rolled in flour and boiled), Orecchiette (pasta) and a nice chiken and vegetable stir fry.

We then proceeded to play a game called the GREAT DHALMUTI, a card game that you can play up to 8 people, we had a really good time, laughing and cussing (in a friendly way of course) at each other all night...

Chiara was not with us again, work and thesis taking all her attention at this time, I really hope that she can get done with the Uni work soon, because in the last two months I hardly saw her. This was the only bad point of the evening, for all the rest it ws simply great!



Comment 1
Ha! Looks like great fun, Lox!! :D

Posted by Nigel at 2007/11/25 21:38:57.
Comment 2
Is eating all you can think and talk about ?!

Posted by Sheri at 2007/12/01 08:53:15.
Comment 3
;-)

Posted by Sheri at 2007/12/01 08:55:27.
Comment 4
Clearly the interesting pictures have been removed for reasons that you can imagine...

Posted by Lox at 2007/12/01 09:28:52.