Thailand
Posted on 2008/04/11 20:50:20 (April 2008).
[Somewhere in 2008]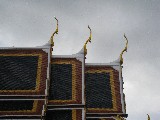 A marvellous trip to Thailand, that got me a free day to check out Bangkok and its beauties. It's an old trip, I could not post the pictures at that time so I am doing it now, I hope you like them!



Comment 1
What beautiful photos, Lox! Wow! That trip must have been awesome, though I agree with you about the "open-air food" - a bit worrying!

Posted by Nigel at 2008/04/14 12:04:12.