Hong Kong and Taiwan
Posted on 2008/04/11 21:35:57 (April 2008).
[Somewhere in 2008]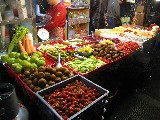 A trip to Hong Kong and Taiwan, places that I had seen before but that this time I managed to see more in details, thanks to a free weekend there!



Comment 1
Another wonderful batch of eye-opening photos, Lox! The HK Trade Centre just looks like very worrying architecture to me! I'm not one who enjoys buildings which "overhang" like that. There's a police-station where I work where this huge tower-block seems to rest on a single concrete pillar. Totally worrking (to me at least!)

As for "Hooters" ! I guess that's for the American market then? Didn't look too busy on the day you were there. Hope the food was good!! :D

Posted by Nigel at 2008/04/14 12:09:05.
Comment 2
Actually it was pretty dire... :) But you never know if you never try! :D

Posted by Lox at 2008/04/14 17:41:31.