John Hawkins
Posted on 2008/04/11 22:00:06 (April 2008).
[Thursday 10th April 2008]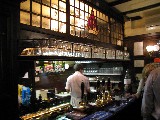 It has been quite a long time since we didn't see each other, and I was really looking forward to see John in London. The last time was in Japan just before he left the country to go back to England.

So we met at Holborn station, because the night would unravel in that area. I asked John some time before to take me to those pubs that he always talks about in his blogs, nameli "the MITRE" and the "CITTIE of YORKE".

We had a nice Korean meal, drowned with the usual Shochyu JINRO (very heavy stuff) and a beer. We then moved to the CITTIE, a marvellous pub! I think that as a foreigner, that pub is just what pubs should be. The whole place looks extremely old, and it is quite different from the "usual" pubs that I used to go to when I lived in Reading.
Here we had a pint of Alpine Larger and I bought a bottle of TADDY PORTER. I was really happy to know that this beer was the real first "stout" ever made.

We then moved to the MITRE, other lovely pub where we had a another marvellous beer of which I forbot the name now, but it was great, very creamy and almost fruity.
The history of the pub was also quite interesting, John know it all!

It was not finished the night because we had to go to the Whisky Society. Though the place is really new, I was expecting something more "classic", again my imagination run freely and I was seeing leather sofas, armchairs, Persian carpets, a fireplace and a butler dressed like a penguin!
Well the Soc. is quite different, it's much more modern, but it was pleasant nonetheless.

Here we sampled three whiskeys, all of them were rather nice, cask strength, coming from the isle of Islay.

At the end we parted around midnight, needless to say that I am not used to drink SO MUCH and so many different things, so the rest of the night was quite "eventful" for me, but it was great to be with John, every time I meet him, I realize how much I miss having him around... Oh well, he's one of my best friends after all!



Comment 1
Really great t osee you two guys together again! I'm really quite envious of you getting to see those two pubs - I'd love to see them.

As for "excessive" drinking - I'm a total whimp these days. I stick to what I know and like and seem to survive OK. Happily the quantity I need to drink is a lot less these days, so I'm a cheap night out!! :D

Posted by Nigel at 2008/04/12 21:05:45.
Comment 2
Yes, in hindsight I deeply regret the jinro.

Posted by John at 2008/04/12 22:38:06.
Comment 3
John:I agree Jinro was probably a less inspired choice I guess...

Nigel:Next time I hope I can plan for the trip better, maybe there is a small chance of meeting somewhere in London?

Posted by Lox at 2008/04/12 23:37:44.
Post a comment