Elio e le Storie Tese
Posted on 2008/04/28 21:32:16 (April 2008).
[Tuesday 22nd April 2008]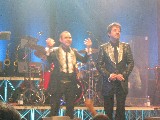 Today Elio e le Storie Tese came to Florence for the ritual annual concert. Of course me Federico and Francesco had to go, even if this time it was not free as usual. We are huge fan of the band, sometimes we even start singing their songs out of a blue, all together.

Also Elisa came, it seems that after many years finally Elio is sinking through her as well, thanks to Francesco of course!

I guess that if we were women we would be groupies tagging along the band!

Elio is a great group, they are very talented, there are a lot of people who do not like the lyrics, but the musical aspects are great, they are really talented.

The concert this time was a bit strange as we were all seated, of course Elio had to take the occasion to tell the audience that it was done on purpose because they turned suddenly "elegant"!
Their songs are quite far from elegant, in most places, but that's part of their spirit, always daring, always satirical.

Nothing more to add, it was a great night, it really took all the bad thoughts and problems away from my mind, not to speak about the two hours of laughs that I spent together with my mates!



Post a comment