Slovenia and short holidays
Posted on 2008/04/28 22:27:08 (April 2008).
[Thursday 24th - Sunday 28th April 2008]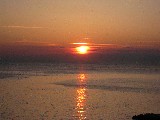 Portorose is a nice little city along the Slovenian coast. We were not meant to go there until a couple of days before leaving. One night I think that me and Chiara were talking to Gianfranco about the coming bank holiday, and he told us that he planned a short trip with his brother Silvio and their cousin to Portorose.

The plan was a 5 star hotel, the free thermal treatments (Portorose is a famous spa), and three days of total laziness.

Me and Chiara were quite interested in this plan, as we didn't make one of our own! In the end we managed to find a place at a nearby hotel and we joined the group!

We left on the 24th early in the morning, after some time wasted on the motorway (there was some traffic and an accident) we arrived at Portorose in the early afternoon, in time to get the rooms and try for the first time the spa centre of the Bernardine Hotel where we had the room.

Hot and cold pools, jacuzzi and several other interesting baths have been thoughtfully tested by me and Chiara on the three days!

In the evening thanks to our Lonely planet guide, we had a great dinner at Staro Sidro (the Old Anchor) mostly fish and soups, but it was truly great.

The next day we went to Croatia, Ilaria, girlfriend of Federico (Gianfranco and Silvio's cousin), told us about Rovigno, a nice little city that apparently had a lot of Venetian influences. Well the city was indeed quite Venetian and nice, on the way back we stopped at Porec to take a look at a very old abbey (the rest of the city was nothing special), and in the evening we had a quite bad culinary experience at a place called Figuerola.

The staff was awful, the food even worse, the bill was the only high point of the evening and of course we were totally not happy about it... But that's life, we quickly went out and had a great slice of cake (you can check out the pictures to see) and everything was good again.

The evenings in Portorose are made interesting by a throng of Casinos that seem to bloom more than flowers in Spring.
It was a nice experience even though I know that I am not good at playing, I am too stingy and in the end I never really "let go" and get possessed by the demon of betting.

I did win some money, which is quite a novelty in the casino business I guess, but it was very little, compared to what other people seemed to play (and loose) with terrifying calm (I have seen a man loosing 1000 euros in 3 hands at blackjack and didn't even twitch)...
The last day me, Chiara and Gianfranco managed to almost double the starting capital, mostly by betting on the roulette on number 26 (black), following an inspiration that Chiara had (but that didn't repeat itself alas).

Back to the holiday the Hrastovlje church needs a special mention. We ventured in the countryside, armed with a good share of faith and a map, I have to say that the countryside in Slovenia is stunning.

The Hrastovlje church comes straight from the IVth century, it's quite beautiful, surrounded by medieval walls it looks like a castle.
Inside there was a rather interesting painting called the "Macabre Dance" where 14 skeletons take by hand different people to their grave where Death awaits them. Surely not the type of painting that you often see in churches and that made it all more interesting!

he lunch that we had afterwards was probably the best culinary experience that we had, we found the place by chance in Hrastovlje (well, it was the only restaurant). The food was really genuine and extremely abundant, we all loved it and we closed the meal with a special distilled liqueur (of which we ignore the name) made of juniper that you could probably use to clean a rusty engine from the sheer strength of it.

All in all a great holiday, it was a good chance to relax and clear the mind a little for the weeks that are to come. In the last two years I never took time off work, so in a way this little holiday was a great change for me!



Comment 1
Hey man, am I wrong or you got fat?

Posted by Sheri at 2008/04/29 07:27:44.
Comment 2
And Chiara is too gorgeous. She MUST be cheating on you!

Posted by Sheri at 2008/04/29 07:29:14.
Comment 3
Very nice pics anyway.

Posted by Sheri at 2008/04/29 07:32:27.
Comment 4
Sheri: No, actually I got thinner! :D But the absence of sport due to the injury at the knee might be bad in the future... I need to get working on my muscles again soon....

Posted by Lox at 2008/04/29 17:45:44.
Comment 5
Excellent pictures, Lox! Glad to see you had a great break from the treadmill of work! As for the "ugly vase" Chiara bought - that's what holidays! :D

Posted by Nigel at 2008/04/30 09:15:23.
Comment 6
... are for! :D (Sorry, pressed return too quick).

Posted by Nigel at 2008/04/30 09:16:01.
Comment 7
Nigel: I guess you are right... Ugly vases are part of the holiday experience, but still....

Posted by Lox at 2008/04/30 17:39:01.
Comment 8
hei hei hei... ugly vase?? I don't see ugly vases in the pictures! :-) He he
Nigel you are right... that's what holidays are for... and... the vase wasn't for Lox so!!
Can you believe my family loves those artistic pieces of the 1950's ?!?! that one was perfect- no broken parts at all, and a lovely price too (8€ ...) ... oh well that vase would'nt harm anyone right ??? he he he

Sheriiiii thanks for the nice "appreciations". I've heard you two speak about diamonds.... what is it about?? I mean... may I have some??? hi hi hiiiiiiiiiiiiii

Posted by Chiara at 2008/05/02 23:48:48.
Comment 9
Ah Chiara! Unfortunately I'm pledged to secrecy...

Posted by Sheri at 2008/05/05 18:57:58.