Weekend in Rome
Posted on 2008/10/14 18:42:03 (October 2008).
Friday 10th October – Sunday 12th October 2008]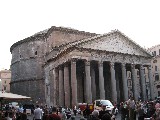 It must have been at least 4 years since I last set my foot in Rome, on that occasion there was my favourite cousin's wedding, this time it was for a "normal" weekend off. We organized the whole thing quickly, and the plan was to stop at Cristina and Federico's house, and then see one of my best friends ever, Tito.

Tito deserves a special note. It must have been more than 10 years since I last met him, we spent so much time together when we were younger, during the summer holidays in Alghero. The holidays back when we were students were quite long, and Alghero is a very busy place in the summer, but I didn't have anyone to hang around with. I think that with Tito everything started in a great way from the beginning, we had the same interests and problems. We soon built up a great friendship, that has not decreased ever since. Even after not hearing from each other in a long time, seeing him again was like if we never really parted…

Anyways the weekend saw us arriving quite late in Rome, driving through the streets of the city is quite difficult if you don't know where you are going and both me and Chiara did not think about bringing some maps with us. Eventually we arrived to Cristina's palce and we had a lovely dinner, after which we went to bed quite quickly.

The morning after, we arrived in the centre of Rome, truly beautiful city, for lunch. After meeting Tito we stopped at a place that he knows, where the owners are from Sardinia (the island where Alghero is set). Tito seems to know all the "useful" Sardinians in Rome, the meal was quite great as a matter of fact!

After the meal we moved to Tito's mother home, a beautiful place right in the nice part of the city! Some drinks, some rest and then once again we were strolling around the squares and historic buildings that I haven't seen in ages. The last time I went there was probably something line 20 years ago!!!

The evening finished at Cristina's place, where my other cousin Riccardo, joined us for a great barbecue and some more drinking, pool tournament and of course mandatory chatting!

I think that we called it a night around 3 AM, when Riccardo and Tito went back home.

The day after saw a marvellous meal at my aunt's place with Cristina, Federico and Riccardo. We used to go to that house every New Year's Eve, me and my family together, so it's a place that holds quite a lot of memories!

All in all a great weekend, seeing people that I really care for and that I'd love to have closer to me… But I guess that this is the destiny of a family that lives all around the Italian peninsula, probably if we were living all together in a place we would be arguing or something… And as for Tito, I really hope to see more of him, now that we hooked up again...





Comment 1
Ah! Brilliant photos, Lox! I really enjoyed those! I have to go one day! :-D (Is it Trajan's Column by the way?)

Posted by Nigel at 2008/10/14 21:49:10.
Comment 2
Nigel: I really do not know, but it depicts the life of that guy on top... :P

Posted by Lox at 2008/10/15 07:37:23.
Comment 3
Hey, you look good on the pics... for once! As for Chiara... she's as gorgeous as ever!

Posted by Sheri at 2008/11/01 08:18:14.
Comment 4
Thanks Sheri!!! Where are you hiding these days?

Posted by Lox at 2008/11/10 14:13:01.
Post a comment