Jordan Holidays - PICTURES -
Posted on 2009/08/28 15:08:38 (August 2009).
[8th - 19th August 2009]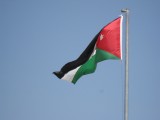 So here there are, the pictures from the Jordan trip are ready to be viewed (just click on the picture of the Jordan Flag here). Enjoy and if you want to ask questions please use this post I will reply asap! :D



Comment 1
Absolutely BRILLIANT Lox!! Excellent holiday!!

Gosh! It looks as though it must have been very HOT!!

Roman ruins (and Greek too!) are something I am very fond of, so your trip to Petra is one I am very jealous of!!

Thanks for giving me such a great virtual trip!! :-D


Posted by Nigel at 2009/08/29 18:35:51.
Comment 2
Thanks Nigel, a pleasure.. I recommend to go if ancient ruins is what you are looking for. Of course you could also find a lot of them in Italy, but Petra is really something that is worth a trip to Jordan for. Heat was ok I guess, apart from the desert and Aqaba the rest was better than Italy.

Posted by Lox at 2009/08/30 10:27:38.
Comment 3
Only just got round to looking at your holiday pictures - subarashi!!

I was so excited to see the Indian Jones place - that was fantastic! I was really surprised there didn't seem to be anyone else there...?

Anyway, thanks for sharing the pictures - they were really amazing - like looking at a completely different world...

Posted by John at 2009/08/30 11:38:27.
Comment 4
Oh and I loved the picture of lying in the Dead Sea reading a book - it's one of those pictures you just have to take when you go there isn't it? :)

Posted by John at 2009/08/30 11:47:29.
Comment 5
John: Well Petra is truly amazing, to avoid the tourists we went there at 6:30 AM, if you arrive by 8 AM the place is full of people and of course they spoil the whole scenery. As for the Dead Sea, yes, that was a "must have" picture that I had already had in mind before arriving...

Posted by Lox at 2009/08/30 14:37:35.