Greenwich
Posted on 2014/10/27 21:18:02 (October 2014).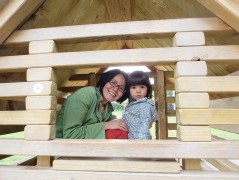 [Saturday 11th October 2014]
Continuing the pie and mash theme from earlier this week, I was very pleased to discover there was another pie and mash shop with vegetarian options - Goddards in Greenwich. Remembering also how good the playground in Greenwich Park had been when we went back in August, that seemed to be present enough for a day out.

We thought about getting the boat there, but as is often the case by the time we'd got ourselves organised in the morning lunchtime already seemed to be approaching, so we thought we ought to try and get there quicker than that. Thus we got the tub to Canary Wharf, and the DLR from there. On arrival we headed straight to the park, and spent the best part of an hour in the playground there. It then started to rain a bit, which seemed to be a good point at which to head in the direction of lunch.

Goddards was a bit different from the previous two pie and mash places I'd been to, both of which had a customer base almost entirely composed of locals. This Greenwich outpost is quite possibly the only place tourists might actually try London's traditional meal, and consequently the menu was a bit broader than usual, and I noted lots of people opting for gravy rather than liquor. On the plus side it did mean there were vegetarian pies ready and waiting (normally I have to wait for these), and although there was a bit of a queue we were served and sat down in the cramped upstairs seating area fairly quickly.

I was a bit unconvinced by the ice cream scoop style servings of mash potato (whither the unseemly wedge round the rim of the plate?) but apart from that quite enjoyed it. Erika on the other hand really didn't seem keen, and barely ate anything - I think she just wanted to have her afternoon nap.

Erika fell asleep fairly soon after we left the pie and mash shop, and we went for a bit of a walk round the market since we were there. Or to be more precise, Chie went for a walk round the market whilst I sat with a coffee holding the buggy - the aisles between the stalls were a bit cramped.

We hung around a bit longer after that, and I recall sitting by the Cutty Sark for a bit, watching kids splash about in the water feature there, and eventually got back on the DLR around 3:30 and headed back.

It looks like from my location history we didn't go straight home, but instead stopped off to go to Chinatown on the way back, presumably to buy things for dinner, although am writing this over a month hence and don't recall what we had. It seems we then walked back home from there.

In the evening the pictures remind me we set up Erika's princess castle - this was a birthday present which we hadn't got round to setting up until now. Erika seemed to really like it, but our already cramped lounge felt even more so!



Post a comment